The Final Episodes
Sundays 10/9c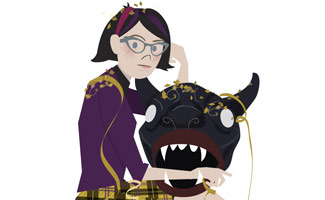 If you're a Mad Men fan, then you know Dyna Moe. She's the illustrator behind the Mad Men Yourself Avatar and last season's Mad Men Caption Challenge. Now she's out with a book spotlighting her artwork, Mad Men: The Illustrated World. AMCtv.com spoke with the artist about the struggle that accompanies drawing Jon Hamm's handsome face and her own time on the Sterling Cooper Draper Pryce set as an extra.
Q: What's been your history with Mad Men?
A: The short of it is Rich Sommer used to be involved with the Upright Citizens Brigade Theatre here in New York and I knew him through that. I did his Christmas card in 2007 for the cast and then was gonna do another project with him in Season 2. It fell through, but I was left with a lot of Mad Men art, which I started uploading to the internet and from there it became a minor internet phenomenon with several hundreds of thousands of views. From there, Matt Weiner asked AMC for me to be involved with the promotion of Season 3, which is where the [Mad Men Yourself] avatar thing came in. And then there was a revived version for Season 4, and the book was happening at the same time I was doing promotions for Season 4.
Q: What was Matt's involvement in the book?
A: He just approved it at the end and made sure his name was spelled right on the cover. He approved it. Everything in it he was okay with.
Q: Do you have a favorite section in the book?
A: There's a whole section of recipes and party menus, all of which are extremely period-correct and extremely disgusting. I recommend those for the daring. … Lots of gelatin-based "salads."
Q: There's a page that depicts the Draper family picnic. Can you talk about that?
A: The picnic scene is an unusual moment of family niceness for the Drapers, which with our current attitudes towards public urination and littering has an undercurrent of trashiness. I tried to reflect that with a menu of food-paste-based sandwiches, which may have been seen at some point in the past as lovely but to modern sensibilities are the
culinary equivalent of pitching a beer can into the trees.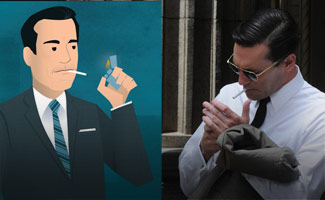 Q: Who is the hardest person to draw?
A: I usually say Jon Hamm, just because drawing attractive people as cartoons is very difficult. They're symmetrical, and you need some oddness to make sure the likeness is not generic. A lot of people on that show are very attractive, but illustrating someone who's handsome is kind of hard when you have little black dots for eyes.
Q: Did you ever consult with the costume department?
A: No, I live in New York and they're in L.A. I ended up talking to costume people when I was there four weeks ago, but I was an extra in a scene so it was just like put this on and shoot.
Q: What did your costume look like?

A: I was in a fake Pucci dress, square-toed shoes and a wig with so
many bobby pins securing it they could have shot me out of a cannon
and it would have stayed on. I [was] styled like a low-rent That Girl. … I did have the proper undergarments, but since we're already mid-'60s they weren't too far off from modern Spanx, except they were buttercup yellow and had garters. The costume department runs like a machine and the whole process of dressing was less than 20 minutes. It was a night shoot and everyone was tired and ready to go home. I got lost a lot on set because it was empty and there's no signs anywhere telling you where the stages are.
Q: Have you received feedback from the cast on your illustrations?
A: I've met a bunch of them before in previous years and for the most part everyone seems to like it. If anyone doesn't like it they've never gone out of their way to tell me. … When I met Jon Hamm backstage at SNL, I guess now two years ago, I did get hugs. And when I first met Matt Weiner, he kissed the top of my head. He's a very physically affectionate person, I've come to learn.
Q: How do you create your Mad Men artwork?
A: The style of drawing is…where you sort of create shapes and meld them together to make new shapes. So basically each of those figures is drawn with circles, squares, triangles and a lot of patience.
Q: Besides the book, you've done Christmas cards, a calendar, the Mad Men desktop and the Mad Men Yourself Avatar. If you could do anything, what would you like to do next?
A: I would like to make toys. Something three-dimensional would be nice. AMC had me design a colorforms set, which they mass-produced and then gave away to advertisers and as prizes on the AMC site. But you couldn't buy it in stores, so if I was given an opportunity I would like to make toys.
Q: Any particular kind of toy?
A: Action figures… Something you can sort of bash into each other.
Click here to read an interview with Dyna Moe from Season 2.