The Final Episodes
Sundays 10/9c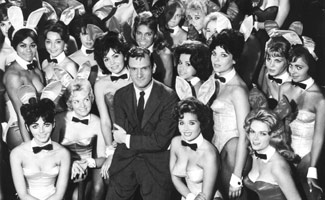 Hugh Hefner opened the first Playboy Club in Chicago on Feb. 29, 1960. For a private membership fee of $25, keyholders could stop by for music, food and cocktails served by the club's signature "bunnies" — hostesses and waitresses dressed in satin corsets, bunny ears and bushy white tails. The Chicago club was an instant hit, and Hefner quickly expanded to New Orleans, Miami, St. Louis and Phoenix.
On Dec. 8, 1963, the Playboy Club opened a New York City location, staffed by 140 "bunnies," at 5 E. 59th St. — less than a block from Madison Ave. Around 60,000 New Yorkers bought keys before the club even opened, and the opening night was a glitzy affair, attracting stars like Zsa Zsa Gabor, Rudy Vallee, Carol Channing, Tony Perkins and Ed Sullivan.
Despite the success of the Manhattan location, its establishment was not without obstacles. Critics believed New Yorkers would be too cosmopolitan for such a club, and Hefner had to jump through hoops to obtain a liquor license from the State Liquor Authority, whose chairman, Martin Epstein, reportedly found the scantily clad employees distasteful. Several months after the club opened, Life magazine published an expose on a bribery scandal in which the SLA agreed to grant the New York club a liquor license only after it ponied up more than $40,000. The scandal resulted in the dismissal and imprisonment of Judson Morhouse, a state Republican chairman and confidant to Gov. Nelson Rockefeller. Epstein too was convicted but had the decision overturned. When the bribery came to light, Hefner remarked, "Only in New York were we met with frustrating administrative corruption on such a level that it was impossible to ignore."
By the end of the 1960s, the Playboy Club had 22 locations around the country and approximately 750,000 members. However, with the growth of feminism, the clubs became increasingly seen as places promoting female degradation. After just under twenty years, the New York City club closed in 1982. The final U.S. Playboy Club closed in July of 1988.