The Final Episodes
Sundays 10/9c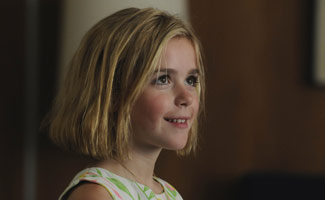 Kiernan Shipka, the 10-year-old actress who plays Sally Draper on Mad Men, talks about playing the daughter of divorced parents, what hobby she shares with the young actor who plays Glen, and cutting her hair short — for real.
Q: Did you really cut your hair short this season?
A: I actually did cut my hair. I was a little nervous when I heard I had to chop it. Fortunately the hair department is quite amazing. They first put on extensions and cut those to make it look very bad and uneven. Then they cut those out and gave me the look that was the final cut.
Q: Betty says she always wanted to have long hair growing up. Which do you prefer, short hair or long hair?
A: I like both short and long. It's gonna be hard to decide if I want to keep it short or long because I really do like my short hair.
Q: Have you always had long hair?
A: I had long hair for a really long, long time, and then I cut it in a bob and then I let it grow out. So this was my second time cutting it short.
Q: Do you think you'd act like Sally if your mom was like Betty and your dad was like Don?
A: I think Sally's actually much better than I would be, given her situation. Sally is really, really reserved. Divorce can be terribly stressful and confusing. Add to that an emotionally unresponsive mother and a physically absent father, I think Sally's actions are pretty tame. If I was experiencing Sally's situation, I would be a complete terror of a kid.
Q: You're a full cast member this season. Were you excited when you found out about that?
A: I was thrilled. Nothing has been really, really different. I was always treated really well on the show. I just get that credit there.
Q: What's been your favorite scene to act out in all of Season 4?
A: Unfortunately I can't discuss it because it's in an upcoming episode.
Q: Any runner-ups?
A: I really liked the fall in Episode 9 — the trip. It was my first time doing a really big stunt and I thought it was fun. I have done tae kwon do for a long, long time, and I'm a gymnast, so I wasn't too worried about the stunt. I had done some stunts before. I was more excited than worried.
Q: Marten Weiner seems to be the actor on set who's closest to your age. Do you ever hang out with him off-set? Do you guys ever talk about scripts together?
A: I've known Marten for a pretty long time, but this year I got to work with him directly, which was fun. We chatted between scenes and there's real cool things about him, but we don't really talk about scripts. Just more ordinary stuff….The schools he's going to, my school, golf. We both like to golf. I have played golf for a couple years.
Q: When Sally and Bobby are at their father's apartment, they seem to watch a lot of television. Do you ever watch Mad Men?
A: I am not allowed to watch Mad Men. My mom will pre-screen it and then she will show me the scenes that she feels are appropriate for me, but it's mostly all my scenes. I watch those.
Q: In Episode 9, Sally cooks French toast for her dad. Have you ever made breakfast for your family? What's your favorite thing to cook?
A: I love cooking. I don't really have a favorite dish to prepare for my family — breakfast, lunch or dinner — but I do like going up to the farmers market on the weekends and getting fresh produce and making something with all that. I'm also really addicted to the Food Network channel. I'm totally hooked on cooking shows. Barefoot Contessa and a lot of Alton Brown.
Q: What's your favorite breakfast?
A: I would have to say probably scrambled eggs. I like French toast, too. I really do.
Click here for an interview with Kiernan Shipka from Season 3.