The Final Episodes
Sundays 10/9c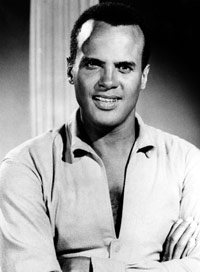 Pop singer Harry Belafonte may have been the first musician to sell more than one million copies of a record and the first black man to win an Emmy, but none of his achievements spared the "Banana Boat Song" singer from racial prejudice in the '60s. As his career burgeoned, Belafonte became one of the most vocal civil rights activists in the entertainment industry. His anti-apartheid album, An Evening with Belafonte/Makeba, won a Grammy in 1965.
One of the more highly publicized racial incidents in Belafonte's career took place near the end of the decade, in 1968, when Belafonte taped an hour-long NBC special with British pop star Petula Clark.
When Clark, who is white, touched Belafonte's arm during one of the songs, an
executive with the company which sponsored the special, demanded a
re-shoot. "It was the most outrageous case of racism I have ever seen
in this business," Belafonte said. After the incident hit the press, the executive was
subsequently fired.
Another publicized racist incident occurred in June 1962, when Belafonte and Martin Luther King Jr. were refused service at the segregated King's Inn restaurant in Atlanta. Belafonte returned to the restaurant the following day and, once again, was turned away. Though Charles Leb, the restaurant manager, expressed regret, he did not change his tune. "I'm a Jew myself, I know how it is to be discriminated against," he said. "I'm a great admirer of Belafonte, but I can't integrate my restaurant because the others won't." In response to Leb's statement, Belafonte pointed out that other restaurants in Atlanta had already desegregated.
Belafonte, whose music was popular with both white and black audiences, often acted in concert with King, a close friend and confidant who he'd met in the mid-'50s. With King, he helped organize and participated in the 1963 March on Washington as well as the 1965 march from Selma to Montgomery. Belafonte often railed against political leaders for failing to take a strong enough stance against racism. In June of 1963, he criticized President John F. Kennedy, Jr., for mustering too little support for civil rights. Several years later he chided President Lyndon B. Johnson for not generating enough publicity for a failed civil rights bill. He raised money for the anti-segregration Freedom Rides of 1961 and performed at numerous civil rights benefit events.
To this day, Belafonte continues to be a stalwart champion of human rights.