The Final Episodes
Sundays 10/9c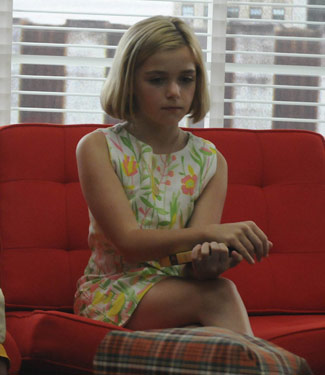 This episode really belongs to Sally Draper, and not just because of her devastating kicking and screaming. Her short dress with the neon flowers was a harbinger of everything Sally's generation will be: loud, hopeful, playful, defiant, and impossible to ignore. And although Twiggy won't emerge as a fashion superstar until 1966, there are suggestions of her fragile, rebellious look in Sally now. There was also something funny about Sally sleeping in Don's white T-shirt, because it was just as long as her dress. In fact, you can pretty much get that look today — for under $100 — from T by Alexander Wang.
That said, if I had to give this episode a tagline, I might go with "Come see the softer side of Faye" because right from the beginning there she is: loose, tousled hair; matte pink lips; smudged makeup. Of course, it helps that she's naked in bed with Don Draper, but still the theme of Faye deconstructed keeps going throughout this episode, both internally and externally. On the clothing front, that sometimes means softer colors (marigold yellow instead of black and white), lighter silhouettes (drop waists instead of boxy jackets and constricting tweed skirts), and a string of pearls that are actually pretty small and neutral. For Faye, anyway.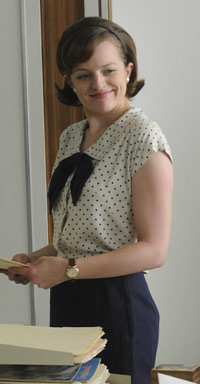 Dr. Miller may be on a style progression, but Megan is definitely confirming that with Trudy pregnant there's a new Mad Men fashion plate to admire. Her yellow dress was especially lovely and featured an exposed silver zipper that was common at the time and coming back into style today. The French label Lanvin started the craze a few years ago; sheath dresses with a full-back closure are back. My favorite comes from Topshop, but I also like this floral one from Jenni Kayne and this simple caramel shift from Tory Burch (on sale at Bluefly).
Even with all the fashion advancement around them, Joan and Peggy remain pretty much status quo. Joan wears red and blue, along with a pussy bow that follows suit from last week. Peggy continues her military motif with a navy-dotted blouse and captain's tie, then, later, a blue work shirt and vest that riff on menswear and also reference the British mod trend that Rizzo and his creative team have embraced.
A parting thought: Did you notice the tableau when Mrs. Blankenship dies? She's in a grape-colored suit. Don's in blue. Megan's in turquoise. Joan's in red. They all look like lollipops. It was pretty funny. Even though, you know, it wasn't.