The Final Episodes
Sundays 10/9c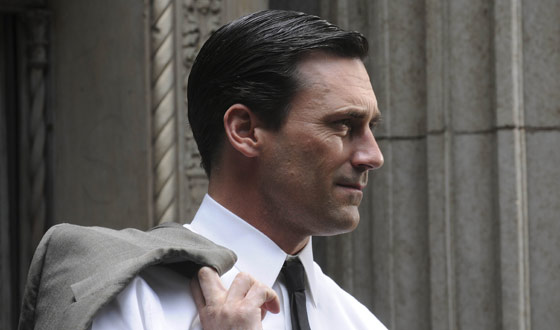 Last week, we noticed a new theme for Don Draper — black, white, and gray. The color palette of newspapers and moral distinctions is Don's new favorite outfit: Call it the desaturated shark suit. This episode, when we see Don smoking a cigarette, while wearing Ray-Ban aviators (created for pilots in the '30s; popular with civilians in the mid-'60s), he's in a gray suit again with a skinny black tie. He looks cool and aloof, but with the Rolling Stones' "Satisfaction" blaring on the soundtrack, well, I nearly lost it.
As usual, Peggy follows suit — literally — and copies Don's ensemble with a purple-and-gray-checked dress of her own. What a contrast to Joan's neon pink dress with a shantung collar and cut that references the Balenciaga trend we talked about earlier this year. It's also good ammunition for Joey's "Shanghai madame" comment, even though that was so not cool. (By the way, notice Joey in his signature yellow shirt and Rizzo in his blue Ben Sherman polo? These boys have uniforms, too, even if they don't look like Don's. And check out Miss Blankenship's cataract glasses. They look like Wayfarers, and they're probably the only cool part of her outfit. Talk about a hysterical contrast to Don's shades.)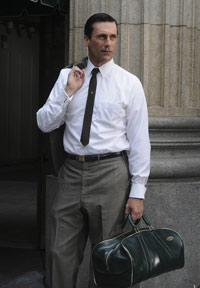 I love Don's dinner date with Bethany because — once again — she looks like a younger, warmer, less complicated version of Betty. Put their outfits up against each other: Betty has an ice-blue sheath with an embroidered V-neck collar complemented by a stiffly swooped updo and drop earrings. Bethany has a watercolor-blue summer dress with a loosely swooped updo and drop earrings. When Betty sits on the toilet, you see that her dress has a constrictive fit; Bethany's dress is relaxed and flowing.
This episode might be the first time ever that Faye hasn't worn a crazy pattern. The simple white-paneled blouse and navy suiting is a new look for her. Peggy's cobalt-blue dress is simple and fabulous, too, especially with her hair. The red pleats with the Navy buttons are interesting, too, because they make her look like a little soldier, which she basically is when she marches into Don's office and aims fire at Joey.
Anyway, back to Dr. Faye Miller. Her date outfit is a dress with no beading or metallic — amazing — and her hair looks like a grown-up version of Sally's. And though her watercolor-green dress is pretty standard for the time, there's something refreshing about the color that makes her seem totally different from all other women, something reinforced by Don's surprisingly restrained treatment of her. It's also worth noting that Don wears a yellow checked jacket to his dinner with Faye. Is the color an indication that he's starting a new phase in his life? By the time the episode ends, Don is wearing brighter blues and khakis too. We like the change. We hope she caused it.