The Final Episodes
Sundays 10/9c
If you're going to spend 24 hours straight with Don Draper, you might as well look really cute. Peggy pulls that off nicely in her birthday dress, a short-sleeved frock with a brown-rose brocade, a full skirt, and the slightest hint of hippie at her collar, where it dips into a gentle V that mimics a Haight-Ashbury tunic. Although it was a bit kitschy (brown roses, Peggy? Really?), it was a great dress for her figure and her coloring; when Don says "You're cute as hell" you believe him. And when Peggy walks through the abandoned offices of Sterling Cooper Draper Pryce, you notice that her outfit actually matches the desks and chairs. Some people look like their pets. Peggy spends so much time in the boardroom that she's actually started to resemble her workplace.
Peggy's hair and makeup were great throughout this episode, too: Her hair is high and perky, adding inches onto Elisabeth Moss's tiny frame. And this was a great episode to notice her beauty look — specifically when Peggy breaks down in the bathroom and has neither mascara nor eyeliner running down her cheeks. That's because she's not wearing gobs of it. Unlike Joan and Faye, Peggy's look doesn't favor the heavily lined cat-eye trend; instead, it's focused on a defined swipe of opaque, shimmery coral lipstick. Besides being cute, quick, and cheap, the lipstick-only look is great when you're getting hassled by Don Draper late at night, since you can run into the bathroom and cry but your makeup will stay put. Revlon's coral shade actually did exist in 1965, and now it's at Walmart for $7. (You're welcome.)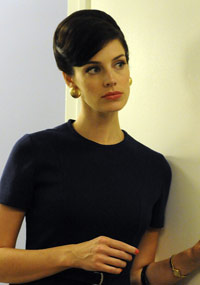 Peggy's dress is a nice foil for the other women in the office, almost all of whom are wearing — you guessed it — blue. Joan pairs hers with jade earrings and a pussy bow. (Interesting, since a few episodes back we explored how pussy bows were like neckties in the office.) Megan does it with a navy shift and lavender gloves. And Trudy, in all her pregnant glory, pairs her electric-blue maternity dress with pearls, pink lipstick, and stilettos. It's great to see her next to Peggy, who is after all the secret mother of her husband's other child, because — did you notice? — Peggy's coat is from the same color family as Trudy's. It's just way more muted.
As for the boys, this might be a good time to bring up the mods. Born in London but soon all over New York, the mods were a sixties subculture whose outfits were influenced by American jazz musicians like John Coltrane and Miles Davis. They listened to rock and roll and wore outfits with three distinguishing features:
1. They were cut very skinny and sharply tailored.
2. They often featured clashing patterns.
3. They used bold Crayola colors.
In the scene where the creative team pitches Samsonite, you can see that each guy — Joey, Rizzo, and Danny — has a version of that look, with Joey going for the Savile Row vibe, Rizzo opting for a slim-cut polo shirt, and Danny pairing so many checks and stripes in his suit that he looks like a vision test instead of an ad man. The tailor Ben Sherman began making those clothes in 1963 and still makes modern versions of the look today. Just don't go overboard with those checks.
Finally, Don Draper. Still wearing gray, white, and black. Will he ever get his color back? Only time will tell.