The Final Episodes
Sundays 10/9c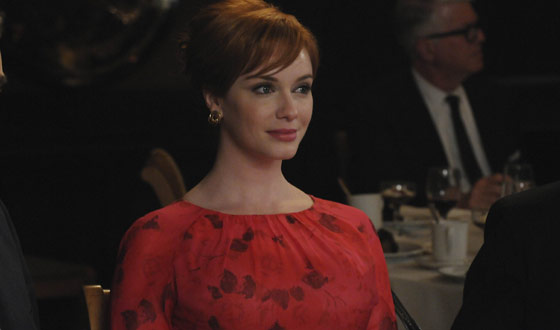 You've got to love a flashback episode, especially one with style that references the mid-fifties. Not only do we get Don in a kinder, gentler version of his uniform suit (the gray is soft instead of shark-like, the tie is wide and has a floral brocade embroidered on it), but we get Joan embodying the va-va-voom silhouette and hair of Marilyn Monroe. Her bustier shape may be molded from period lingerie, but those jeweled straps still exist today. You can get them at any Victoria's Secret. (Although we don't recommend showing them off in public.)
Joan's red dress for the Clio Awards is still luscious but certainly more subdued and mature than the sex kitten we glimpsed in the flashback. The painted flowers on the silk dress look like a harness reining in her sex-bomb figure. If you wonder how Joan achieves that effect in every costume, it's because of two things: (1) The actress, Christina Hendricks, has an incredible body, and (2) The costume designer, Janie Bryant, has an incredible eye. She sometimes buys costumes three or four sizes too big for the women, then cuts them down so the proportions are exactly right.
That's obviously not a practical way for modern women to shop, but you can mimic Joan's curvaceous shape with a simple rule: Pair a sheath dress with a wide belt, cinched exactly at your waist. Voila — instant hourglass! There are even dresses this season with a built-in accent at the hip, like this sweet, simple one from Theory. Their stylist is clearly a Mad woman: Besides the play on a sixties silhouette, the model has a modern riff on Joan's hair. There's also this amazing shift from Dolce & Gabbana. It's very expensive but nails the idea of a modern Joan, and, unlike many current runway trends, it actually works better on a curvy figure.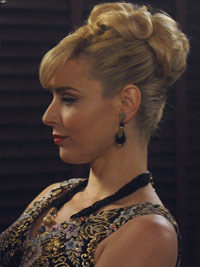 Dr. Faye Miller got to work her own figure this episode, with a black sheath embroidered in a textured metallic floral design. With her high hair, her huge earrings, and her bold pattern, she looks modern and glamorous. But she also continues her style strategy from the last episode: to dazzle everyone to distraction. How can you possibly notice what Faye is thinking or feeling when she deflects the attention from herself onto her busy outfits?
The underwear scene in the hotel was fun, but I think Peggy's best outfit was the blue suit at the end of the episode. It nipped her waist nicely, and the skirt was tight and straight — very cute. You can see a similar nipped waist in this Givenchy jacket from 1961. Peggy's skirt is shorter than this one, but the shape is the same. For contrast, check out this Givenchy jacket from 1967. It definitely looks like it could be in Peggy's closet in a few years.
Did you notice the flashes of yellow in this episode? Don wears a yellow shirt in his first flashback scene, meeting up with Roger at Heller's. Later, Joey wears a similar yellow shirt when he's cut down by Don in the Life cereal meeting. If blue is the color of experienced disappointments, is yellow for the newbies? Something to think about, especially given the color of Sally's blouse for her first therapy session in Episode 5. (Hint: it ain't blue.)