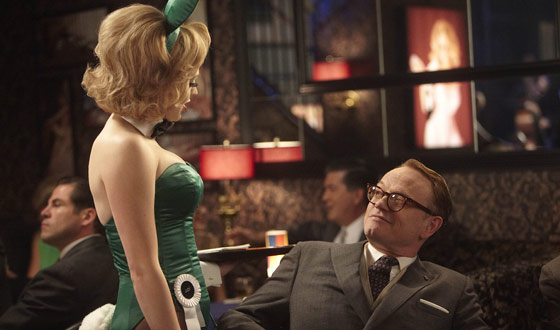 If this episode is about unraveling — Don's identity, Sterling Cooper Draper Pryce's finances, Joan and Roger's relationship, Lane's American dream — then the costumes should reflect the plot. But it's got to be more subtle than Don running around in a suit with holes in it. His life may be threatening to burst at the seams, but he's Don Draper, and his clothes need to keep it together. And they do that in the neatest way. His suit and tie seem to get tighter and tighter on his body until Don's clothes, his superficial front, threaten to strangle him whole. Watch this progression until the panic attack scene where his shirt is practically popping open, as if his own shell can't contain him, which of course it can't. Don in a white T-shirt on his bed is an Everyman but also a nobody. It's a blank slate, and it reflects the emotional state that lets him tell Faye who he really is. Also it's really sexy. Duh.
As for the rest of the characters, you get small signals about their own implosions. Roger's suit looks a little small in the first scene — his wrists are popping out like a gangly boy who needs a grown-up-size jacket; Lane's three-piece suit with a cream vest is reminiscent of the one the Mickey Mouse doll wears; and Joan's pencil skirt is simple and black, a piece of "Don't go there" armor that reflects her forbidden condition. (As to her seductive satin dress with dark roses, there's a very similar dress at Barneys right now from the British designer Erdem, who specializes in sculpted torsos and floral prints.)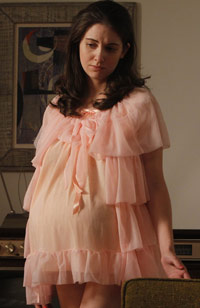 Betty's light-yellow dress against the cream wallpaper allows her to fade into the background and away from suspicious attention. Even her ashtray matches her outfit when the Feds come to interrogate her. And Faye's white suit looks almost like a nurse's uniform, though when she takes off her blazer and reveals the bold geometric pattern underneath you know she can never be just a caretaker to a man. She's got her own mission, and her own life pattern. And did you notice that Megan's pink sheath, which she wears when Don confronts her with the DOD-form problem, looks like a really big eraser? (Costume designer Janie Bryant tweeted that she got it at a vintage warehouse.) It's also a great contrast to Trudy Campbell's fluffy pink maternity outfit, which is the same color as Megan's dress but completely different in shape and meaning.
On another subject altogether: How great were those Playboy bunny outfits? I bet they'll inspire a few Halloween costumes this year, and they also had a neat makeup trick: Notice how the girls use a light eye shadow on their top lids along with a shimmery gloss on their eyebrow arch for that eye-popping baby-doll look. It's easy enough to do with some cheap shadow from a drugstore, and you can put a tiny streak of Vaseline on your brow bone for the same effect. I think the real humor of the Playboy bunnies is in the ears. Just like you've got to match your handbag with your shoes, you've got to match your bunny ears to your satin leotard. That's the way a real lady rolls.