The Final Episodes
Sundays 10/9c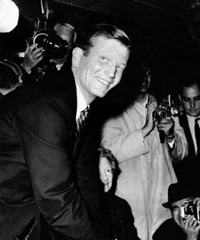 On Nov. 23, 1964, the New York Times published a list of Republicans who were being considered for the 1965 New York City mayoral race. In a city dominated by Democratic voters and led by incumbent Robert Wagner, a Republican victory was considered a long shot. However, John Lindsay, a U.S. Representative for the 17th district of New York, was seen as a strong contender due to his bipartisan appeal. Called "a thorn in the side of his own party regulars," the Congressman had broken with party lines upon numerous occasions, whether by supporting Medicare or voting against a bill that would have allowed the postmaster general to impound obscene mail. Better yet, Lindsay was popular with his Manhattan constituents.
On Jan. 28, 1965, Lindsay announced he would only agree to run if the Republicans selected him as their nominee by Mar. 1. Any later, he feared would not provide enough time to garner sufficient finances and voter support. On Feb. 26, he met with Republican Governor Nelson Rockefeller and urged him to choose a candidate by Mar. 1. When Rockefeller stalled, Lindsay pulled his name from consideration. On May 12, Rockefeller finally announced that Lindsay would receive his "enthusiastic support" (presumed by many to mean financial support), prompting Lindsay to officially announce his run.
Shortly after Lindsay's announcement, the incumbent Wagner pulled out of the race to spend more time with his children and city comptroller Abraham Beame became the new Democratic nominee. (William F. Buckley Jr. joined the race as well, on the Conservative ticket.) On Nov. 2, Lindsay won the election, defeating Beame in a close race of 46% to 40.6%. He was the first Republican mayor of New York City in 20 years, and his tenure lasted until 1973. His legacy is tainted with criticism, however, as many were quick to blame him for the city's dire fiscal woes in the '70s. After switching parties in 1971, he made a failed bid for the 1972 Democratic presidential nomination. His political career soon waned. He passed away in 2000.