The Final Episodes
Sundays 10/9c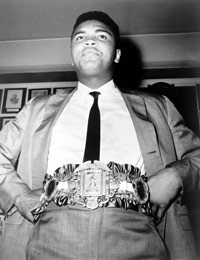 Before he was known as Muhammad Ali, 22-year-old Cassius Clay stunned the world by defeating heavyweight boxing champ Sonny Liston in a Miami bout on Feb. 24, 1964. Clay famously trash-talked his opponent before the match. "I am the greatest," he said. "You nothin'. You scared. You a chump, a sucker."
In a UPI poll of ringside reporters, only three of 46 believed Clay had a chance against the returning champ. Many mistook the upstart's pre-fight, weigh-in pulse of 120 (as opposed to his normal rate of 54) as jitters. Indeed, the boxer's odds in Las Vegas dropped from 7-1 to 8-1 soon thereafter. Come fight day, though, Clay won the bout in the seventh round then gloated. "Hypocrites! Whatcha gonna say now, huh?"
At a press conference following the fight, Clay announced that he had joined the Nation of Islam and was renouncing his birth name in favor of Cassius X — which then evolved to Muhammad Ali. Boxing fans, however, did not acknowledge his new identity, with most reporters continuing to call him Cassius Clay for some time.
In spite of regulation conflicts with the World Boxing Association, Liston and Clay scheduled a rematch for May 25, 1965, in Lewiston, Maine. (To punish Clay for flouting rules, the WBA stripped him of his championship title — though many considered it a nominal punishment.) Though only 2,412 fans attended, the fight was broadcast to 258 locations on closed-circuit television, attracting an estimated 515,000 viewers. This match went on to become one of the shortest bouts in boxing history: Barely two minutes in, Clay knocked Liston to the ground with a quick right-hand punch. Liston tried to sit up but fell back down. Following a brief spell of confusion, during which Liston and Clay resumed fighting, the fight was declared over because of that knockout (which had in fact lasted longer than ten seconds). When the referee declared Clay the winner, the surprised audience erupted in boos. "Fix! Fix! Fix!"
Liston later said that he had been "stunned" by Clay's punch, and "lost my balance." Clay explained that he had delivered an "anchor punch" to Liston's head — though it was more commonly called the "phantom punch," since many audience members did not even see it. Responding to widely held theories that the fight was fixed, Clay said, "If the fight had been fixed, Liston would have waited more than one round to make it look good." The Neil Leifer photo of Clay towering over Liston's fallen body is still considered one of the most iconic images in boxing photography.