The Final Episodes
Sundays 10/9c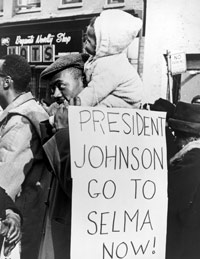 On Mar. 8, 1965, Martin Luther King, Jr., issued a call to clergy members to march with him in Selma, Alabama, in support of equal voting rights. After watching demonstrators get beaten and tear-gassed by state troopers on national television, Reverend James Reeb, a 38-year-old white Unitarian minister from Boston, heeded the call. "He couldn't stay home and do nothing when he was so much needed there," his wife, Marie Reeb, later told reporters.
The following day, Reeb joined around 2,500 demonstrators in a march along Highway 80 in Selma. The event took place without violence. However, several hours later, Reeb dined with two fellow white ministers at a popular black establishment called Walker's Cafe. As they left the restaurant, they were attacked on the street by four white segregationists — Namon O'Neal Hoggle, William S. Hoggle, Elmer L. Cook and R.B. Kelley. Though the two other ministers escaped without serious injury, Reeb suffered multiple skull fractures. An ambulance transported the unconscious Reeb to Birmingham, 90 miles away, but the head trauma was fatal. Two days later, Reeb died with his wife at his side.
When King learned of Reeb's death, he said the minister "now joins the ranks of those martyred heroes who have died in the struggle from freedom and human dignity." President Lyndon B. Johnson sent Marie Reeb yellow roses and offered condolences by phone. The following week, the president introduced a bill to Congress that would make discriminatory voting practices illegal. "There is no cause for pride in what has happened in Selma," Johnson told Congress on Mar. 15. "There is no cause for self-satisfaction in the long denial of equal rights of millions of Americans." The bill was signed into law on Aug. 6 and became known as the National Voting Rights Act of 1965.
The four men charged with Reeb's death were acquitted that December by an all-white, all-male jury. Reeb was survived by his wife and four children; his name was engraved on the Civil Rights Memorial in Montgomery.