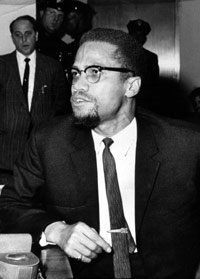 While giving a speech at the Audubon Ballroom in New York City on Feb. 21, 1965, 39-year-old civil rights activist Malcolm X was gunned down at close range by three men before an audience of 400 followers. "There was what sounded like an explosion," a witness told Time magazine. "I looked at Malcolm, and there was blood running out of his goatee."
The assassins were members of the Nation of Islam — also known then as the Black Muslims — a black nationalist movement that believed Islam was the true religion of black Americans. Malcolm X had been an active member of the movement for twelve years. By the time he defected from the movement in 1964, his radical views had tempered. But his split from the group was not amicable. Just one week before his death, his home in Queens was firebombed. He blamed the Nation of Islam; the group accused him of staging the attack for publicity. Though the Nation of Islam denied involvement with Malcolm X's assassination, the three shooters — Talmadge Hayer, Norman 3X Butler and Thomas 15X Johnson — were convicted of first-degree murder in March 1966.
Malcolm X's body was displayed for public viewing in a glass-topped casket at the Unity Funeral Home in Harlem. More than 20,000 people came to pay their respects over four days. On Feb. 27, an hour-long funeral service was held at Harlem's Faith Temple Church of God in Christ, with around 1,000 mourners in attendance. Actor Ossie Davis delivered Malcolm X's eulogy, saying of the controversial activist, "However we may have differed with him … let his going from us serve only to bring us together, now." Though he was born Malcolm Little, he was buried as El-Hajj Malik Shabazz, the name bestowed on him following a pilgrimage to Mecca the year before.
Five days after the assassination, Martin Luther King, Jr. delivered a speech praising Malcolm X, describing him as a victim of his violent upbringing: "He, like so many of our number, was a victim of the despair that inevitably derives from the conditions of oppression, poverty, and injustice which engulf the masses of our race."