Returns April 5 at 10/9c for the
Final Episodes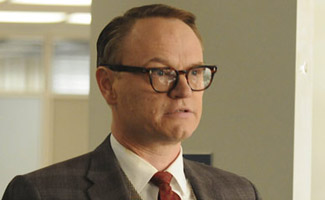 Movie veteran Jared Harris, who plays SCDP number-cruncher Lane Pryce, talks about playing drunk, landing his first Mad Men laugh and, at last, getting prescription glasses for Lane.
Q: Lane finally gets to let loose in this episode. Was that fun for you?
A: I was very pleased with that development. You got a little glimpse of the personal side of the character last year, but mostly his function has to do with the life of Sterling Cooper, or Sterling Cooper Draper Pryce. So this helps to humanize the character. It was great fun.
Q: How is playing a drunk Lane different from playing a sober Lane?
A: It's much harder not to ham it up. The greatest drunk acting of all time has to be either Peter O'Toole in My Favorite Year or Dudley Moore in Arthur. They teach you in drama school that you're never supposed to play drunk — drunk people try to pretend that they're more sober than they are.
Q: Some fans were shocked that Don Draper would ever sleep with a prostitute–
A: [Laughs.] They were shocked? That's funny. I would imagine if they're shocked that Don Draper's doing that, they'll be shocked to a magnitude of 10 [that Lane is doing it].
Q: You were made a full cast member for Season 4. How is it different from being a guest star?
A: Better billing, maybe. But everything else is exactly the same. My name's on the door. It wasn't last year.
Q: It seems you wear glasses in real life. Has Lane's eyewear affected your personal choice of frames?
A: No, I haven't gone out and gotten those great clunky, thick Harry Palmer/Michael Caine glasses. But they put my prescription in those glasses. Last year they didn't have the prescription in, so it was a little bit weird being behind them. This year they put my prescription in…. There we go. That's something from being a full cast member.
Q: Lane is the money man of the office. Are you good with numbers in real life?
A: Yes, I do handle that stuff myself…. I find that people who deal in finance speak in extremely convoluted ways…. Yet you need to have somebody who does that if you spend half a year's budget on the Christmas party.
Q: In the scene where you and Don figure out what movie to see, which of the movies in the newspaper would you have wanted to see yourself?
A: I'm trying to remember what was on that page. It was a real newspaper from that time. There was The Umbrellas of Cherbourg, which I've never seen. Zorba the Greek, which I have seen, which is great. I'm a real pulp moviegoer. I'd probably see The Guns of August or something.
Q: Then of course you end up seeing a Japanese monster movie.
A: Actually in that scene — [the directors are] sort of famously devoted to making sure you say all of the words exactly the way they're written — I got held up for not pronouncing the gibberish Japanese correctly. I had to do it over again. I was supposed to say it the way it was written.
Q: Do you have any favorite Lane Pryce lines from this season?
A: "It's a Polaroid" was pretty good. I got a laugh pretty much every time I did that one. Not bad, when you can get them still laughing when you're doing, like, take eight. What else? It's pretty hard to top, "Very good then, Happy Christmas" [at the end of Season 3]. I did love that one because it was actually the first laugh I ever got in a read-through. Until that I'd been very dry. It was very slim pickings for Lane. But then I was getting peals of laughter. Just a little giggle I'd settle for, but finally I got a good belly laugh.
Q: Do you get offers for movie roles based on your Lane character?
A: Yeah, one weirdly came through for a Western or cowboy movie where I was playing some accountant or something. Like, really? I'm already doing this. Yeah, unfortunately those don't tend to be massively imaginative. They go, "Oh look, we've got someone who's a number cruncher. Get that number cruncher from TV."
Click here to read an interview with Jared Harris from Season 3.