The Final Episodes
Sundays 10/9c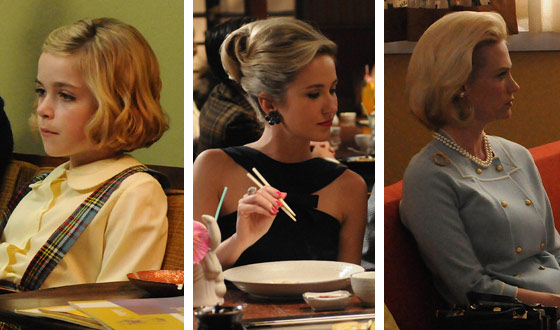 This episode is amazing for many reasons, one being the neat way it highlights the importance of hair. Sally's self-imposed bob proved a shocker, sure, but the haircut actually marks the second time a new 'do has been the basis of a story line. Two seasons ago, Peggy shed another layer by letting her hip co-worker Kurt reshape her dowdy locks. This time, Sally's snips represent pain, growth, anger, and modernity. They also bring to light a new archetype: Hayley Mills, the carefree, wholesome teen movie star (The Parent Trap) who seems both blithely sweet and a little bit cool. (Her era's Dakota Fanning, with a British accent.) Of course, Mills isn't the only blonde '60s reference here. With her wide eyes, barely hidden scowl, and new coif, Sally resembles that ultimate Little Girl Lost, Edie Sedgwick. Dr. Edna (if we're just going on hairstyles alone), your work is cut out for you.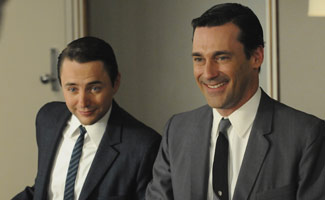 But if Sally is breaking the mold, Pete is settling into one. In his custom-made tailored suits — designed by the unrivaled Janie Bryant, he looks like a smaller, hungrier Don Draper, with his tie as narrow and sharp as a baby shark. "The rest of us are trying to build something," Pete snaps at Roger when a potential deal is foiled; outside of the whole company thing, yeah, Pete's trying to align himself with the most respected man at the firm: Don. Dressing as his skipper is a good way to go.
Although we don't see much of her "three dates in five months," Bethany's dress at Benihana is amazing. Take a look at that neckline, a striking evocation of the stark lines on Dior's Paris runway in 1965. Versace brought back that embellished black neckline in the '90s, and Kate Moss riffed on the shape again with her first collection for Topshop, in 2007. (Check out Erin Fetherston's current take on the trend.) If you follow suit, be sure to follow Bethany's lead and keep your hair up. You want to show off that neckline as much as possible! (Fun fact: In the new book Mad Men Unbuttoned, by Natasha Vargas Cooper, I learned that in 1965 hair spray became the best-selling beauty product for the first time ever. Looking at the high updos of Bethany, Joan, and Dr. Edna, you can see why.)
Betty's outfits are also telling in this episode. When she goes to reprimand Sally in her bedroom, her pink, ultrafemme lingerie matches the decor; Sally's camel jacket and red-and-white-stripe outfit does not. It's almost as if Sally doesn't belong in her own house, especially in the space that her mother has assigned her. Betty also has a cool fashion moment in Dr. Edna's office, via a glacial-toned dress with military details on the buttons and sleeves. Clearly, she is bracing herself for an emotional battle and has the uniform to prove it.
Of course, the real guns in this episode belong to Joan. Her wham-bam figure looks insane throughout. "Not very subtle, are they?" she snaps at the ogling Japanese. No. But, honestly Joan, in that cardigan, did you really want them to be?