The Final Episodes
Sundays 10/9c
Happy New Year, Mad land! It's 1965, and major changes are about to shake the world of fashion. The Beatles and the bikini are here, as is the Sports Illustrated swimsuit issue (which debuted in '64). And thanks in part to London designer Mary Quant, the popularization of the miniskirt is only a few months away.
The characters are making progress, too: Don is noticeably out of his blue suit and back in his slim — and rather sharklike — gray one, while Allison has inherited both his broken heart and his color scheme. The delicate French pastoral pattern on her silk blouse was a nice touch, mimicking a Wedgwood china design, and marking her "Fragile! Do not break!" Peggy's hair is high and perky; her checked suit, great. The nipped waist and the color palette — which coordinates with the colors in the office — indicate she's got everything together. And Lane's handkerchief, folded in a flat line just above his heart, is so telling: This guy literally starts off the episode acting like a total square.
As for Joan, she carries a theme from last week — outfits that wrap and unwrap. Her hospital gown is essentially a giant wrap of flimsy fabric, but her other pieces — the blue dress with a tied waist, her silk shantung dress that unbuttons diagonally up the front, and even her coat with the giant bow at the neck — all seem to say "Pull the string and I'm yours." Diane von Furstenberg's famous wrap dress won't debut until 1972, but there are hints of it here in Joan's wardrobe which also reminds us that Joan chooses which parts of herself she shows and which parts she hides, depending on who's around.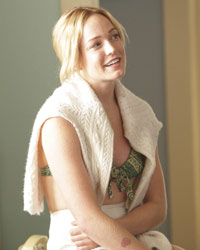 But despite those fun fashion moments, I declare the Style Win goes to California — specifically Anna Draper; her niece, Stephanie; and Don himself (when he joins them on the West Coast). Last week, we explored Trudy's Balenciaga moment — how her silk tunic looked like an expensive hippie dress, but, really, was a runway trend from 1964 Paris. This week, Anna and Stephanie show how '60s California differed vastly from '60s New York. Stephanie's white shorts and bikini top illustrate that Dr. Faye Miller archetype — "the carefree girl in white pants." Compare her rumpled, crimped hair — as if she'd slept on her ponytail for a few days — with Joan and Betty's constantly pinned coifs. Actually, compare Anna's loose long hair with them, too. If you want to copy the California look, it's really easy: Just leave a little conditioner in your hair after the shower, then mix some salt and warm water in a spray bottle. Crush your hair in your hands right after you spray and voila! You too can be Don Draper's beautiful West Coast jailbait.
As for Don, or Dick, he sheds his NYC uniform in California. Now he wears colors, patterns, and Ray-Bans. That's a side of him we almost never see. (Obviously we love it.) When Don comes back into the office with his trademark silhouette — the hat, the overcoat, the straight, stiff slacks — we're reminded that Don's clothes aren't just his disguise; they're also his armor, and his security blanket. I'd never think it would be sad to see Don Draper looking slick and powerful, but after this episode his suit and tie make my heart ache.