The Final Episodes
Sundays 10/9c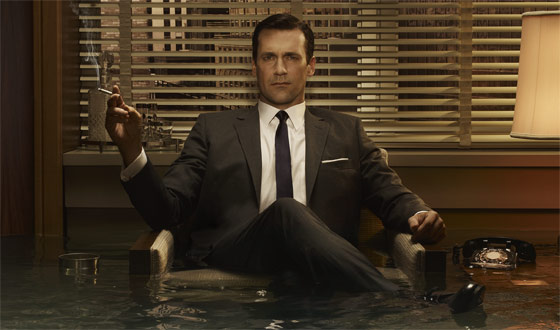 Mad Men picked up two hat tricks at the 62nd annual Primetime Emmys on Sun. night, taking home trophies for Outstanding Drama Series and Outstanding Writing each for the third year in a row.
The best drama win had Creator Matthew Weiner marveling that the show is already in its fourth season: "I didn't even think we'd get through half of one," he explained. Mad Men faced stiff competition for the statuette — the drama won out over AMC's own Breaking Bad (Click here to read about Breaking Bad's Emmy wins), Showtime's Dexter, CBS's The Good Wife, ABC's Lost and HBO's True Blood. Matthew Weiner and Erin Levy also picked up the Outstanding Writing award for their work on the Season 3 Finale, "Shut The Door. Have A Seat".
The two Primetime awards add to two other Emmys Mad Men won last week at the Creative Arts Emmys. Laura Schiff and Carrie Audino were recognized for Outstanding Casting. Meanwhile, head hairstylist Lucia Mace, key hairstylist Anthony Wilson, additional hairstylist Mary Guerrero and additional hairstylist Peggy Semtob won Outstanding Hairstyling for their work on Season 3, Episode 8, "Souvenir".