The Final Episodes
Sundays 10/9c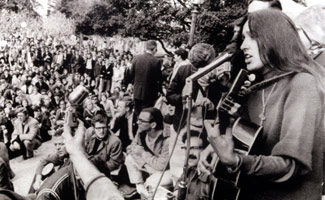 In September of 1964, the University of California, Berkeley, banned students from using campus property to raise funds or generate support for off-campus political causes. On Sep. 29, when eight students were expelled for violating the ban, several hundred demonstrators organized a campus sit-in. Two days later, police charged former grad student Jack Weinberg with trespassing after he attempted to raise money for the Student Nonviolent Coordinating Committee. As Weinberg was carted off campus in a police car, students thwarted the vehicle's path. Over the course of the next 32 hours, as many as 3,500 protesters crowded around the captive car, rocking it and denouncing the university from its roof.
The school eventually lifted the ban but retained the right to discipline students arrested for political activity. The battle came to a head in December, when the university threatened to discipline four students who had organized the police car protest. On Dec. 2, around 5,000 demonstrators rallied at Sproul Hall, the U.C. Berkeley administration building, to protest the university's disciplinary actions. Among the demonstrators was folk singer Joan Baez, who sang, "Have love as you do this thing, and it will succeed."
Following the rally, around 1,000 demonstrators stormed the four-story Sproul Hall to stage a sit-in. Protesters, many of whom were students but also included university employees and non-students, spent the evening in the building, studying, singing, strumming guitars, and watching Charlie Chaplin films. In the early morning hours of Dec. 3, 400 police officers entered Sproul Hall, by order of Governor Edmund G. Brown, and arrested protesters for "trespass and unlawful assembly." In the next thirteen hours, police arrested approximately 800 demonstrators, some of whom, according to a New York Times report, were dragged down stairs. "There'll be some sore rumps in jail tonight," one deputy told the Times. Following the arrests, U.C. president Clark Kerr declared that the Free Speech Movement (FSM), as the protests came to be called, had become "an instrument of anarchy and of personal aggrandizement."
The sit-in disrupted classes that day — only a quarter of the 82 academic departments were functioning normally. However, the sit-in was not universally supported by Berkeley's 27,500 students. Some critics held signs such as, "Throw the bums out," or "Law Not Anarchy — The Majority of Students Do Not Support This Demonstration." Though the FSM dissolved the following year, the Berkeley protests went on to inspire civil rights demonstrations on campuses around the country.