The Final Episodes
Sundays 10/9c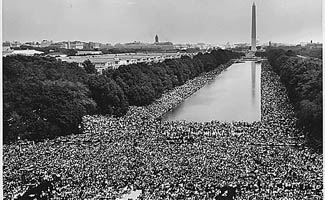 Washington D.C. has been the site of many marches over the years, but few are as historic as the one that took place on Aug. 28, 1963, when an estimated 250,000 people descended on the nation's capital to voice their support for racial equality.
More than 2,000 buses, 21 trains and 10 aircraft were chartered to transport marchers from all over the nation, and at 11:20AM the March on Washington for Jobs and Freedom kicked off at the Washington Monument. As the sea of bodies proceeded to the Lincoln Memorial, children clapped their hands and marchers waved signs and pennants. There was even a group of demonstrators who'd been released from jail solely for the event. "Move on, move on, till all the world is free," they chanted.
The rally stopped at the steps of the Lincoln Memorial, where Martin Luther King, Jr. proceeded to deliver his momentous "I Have a Dream" speech calling for an end to discrimination. Josephine Baker, an American expatriate actress who flew in from Paris for the event, called it the "happiest day of my life." African-American leaders, including Roy Wilkins and A. Philip Randolph, offered rousing speeches, and Bob Dylan and Joan Baez performed together. The demonstration was exhaustively televised with Nielsen ratings registering a 46% increase in daytime viewership that afternoon — fitting, as more cameras were set up for this march than for the previous Presidential inauguration. Indeed, a New York Times reporter commented that the event "had to be seen to be felt," as its "eloquence could not be the same in only frozen word or stilled picture."
March organizers laid out a list of demands, including legislation for comprehensive civil rights as well as desegregation in public schools. Congressmen wary of the demands expressed cynicism over the rally's effectiveness, but the event was hailed around the world as a milestone in the Civil Rights Movement. President John F. Kennedy praised the "deep fervor and the quiet dignity" of the march, and the event ultimately paved the way for passage of the Civil Rights Act of 1964 as well as the National Voting Rights Act of 1965.