The Final Episodes
Sundays 10/9c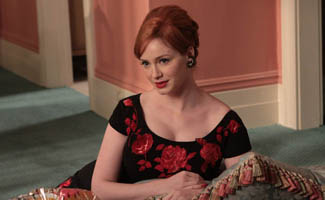 The media was abuzz this week with news about the premiere date of Mad Men Season 4. Meanwhile, Christina Hendricks drummed up a lot of attention. Find out why.
• Entertainment Weekly, the New York Times, the Los Angeles Times, The Hollywood Reporter and a dozen other media outlets hailed the announcement of Season 4′s Jul. 25 premiere date. BlackBookMagazine.com offered tips on how to wile away the time in the next three months.
• Christina Hendricks graced the cover of Esquire magazine's May issue, and the accompanying article is "a letter to men," from Hendricks. (Men, pay heed: Scotch is sexy.)
• In the wake of rumors that Mad Men would end at Season 6, Entertainment Weekly, the Los Angeles Times, NYmag.com and TV Guide set the record straight.
• Elsewhere in the May issue of Esquire, Hendricks was voted the best-looking woman in America, beating out Megan Fox and Adriana Lima. For the best-looking man in America, Jon Hamm ranked right up there with Johnny Depp and George Clooney. Not too shabby!
• Hendricks also showed up in the Fort Worth Star-Telegram's salute to secretaries on screens big and small. Joan Harris (nee Holloway) is honored for her "unflappable" attitude.
• Immaculate Infatuation is celebrating last season's DVD release with a giveaway of Seasons 1, 2 and 3 on DVD.