Returns April 5 at 10/9c for the
Final Episodes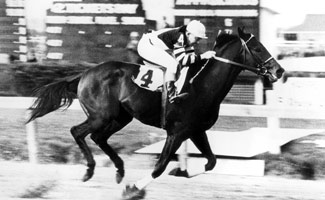 For a horserace that lasts about two minutes ever year at the Churchill Downs racetrack in Louisville, the Kentucky Derby sure generates a lot of attention. In 1963, with the glamorous Prince Rainier of Monaco in attendance, all bets were on equine superstars Candy Spots, No Robbery and Never Bend. The latter had won the most prize money of all nine horses in the race, but it was Candy Spots and No Robbery that sent the racing world into a tizzy: For the first time since 1875, two undefeated horses would go muzzle to muzzle at the Derby.
Out of the gate, Candy Spots, No Robbery and Never Bend led the pack by a solid distance. As they neared the finish line, though, No Robbery and Candy Spots fell behind and, out of the blue, the unassuming American colt Chateaugay pulled ahead. Despite 9-1 odds and a sixth-place start out of the gate, jockey Braulio Baeza rode Chateaugay to victory, overtaking Never Bend in the final stretch by a full length-and-a-quarter. Clocking in at two minutes and 1.8 seconds, Chateaugay cantered home with the coveted garland of roses — and $108,900 for his owner, John Galbreath. "I can't remember a Derby creating so much excitement," jockey Eddie Arcaro told Time magazine. This marked the first Derby win for Galbreath, who had purchased Chateaugay's sire, Swaps (winner of the 1955 Derby), for $2 million and also owned the Pittsburgh Pirates baseball team.
The following year would prove equally as exciting, when Canadian thoroughbred Northern Dancer finished the race in a record time of two minutes flat — a record that would remain unbroken until Secretariat's still-standing record of 1:59.40 in 1974.