The Final Episodes
Sundays 10/9c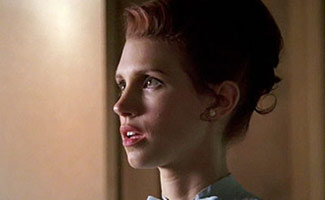 As the actress who plays Pete's secretary, Julie McNiven spends a lot of time behind the electric typewriter. So we asked her what she's doing when she's not sitting outside Mr. Campbell's office.
Q: Do you ever hang out with other actors from the Sterling Cooper secretarial pool?
A: Not on a regular basis, but sometimes Christina [Hendricks] will have dress sales where everyone brings in clothes that they don't want anymore and then we sell it cheaply to our friends. She'll do that a couple times a year. And I sometimes babysit for Rich [Sommer's] daughter. I love kids and I can't have one for a couple more years, so I get my fill with my friends' children.
Q: Were you cast specifically as Pete's secretary?

A: I was initially Pete's secretary. In the pilot I just had that one line, I can't even remember what it is, where the guys are walking into his office and I asked if they had an appointment. Then the relationship just kind of took hold that first season. We were both giving little bits of character information and they took that and ran with it, creating this wonderful tension that's always there.
Q: Did you audition for Hildy?
A: Initially I had gone in for another role in the pilot, but I was not right for that one. I got back to my house and got a call from the casting director and they were like, "Can you come back? There's another role. It's one line but we think you're right for it." So I went back and it's one of those auditions: How do you say one line? How do you say it wrong or how do you say it right? I'm not sure, but I guess I did okay!
Q: What have been some of your favorite episodes to shoot?
A: I would definitely say the party scenes are just a blast. Those are so much fun to shoot because everyone is there… Of course [I like it] when I have the opportunity to have a little more to bite into — in Season One that was great, with the affair and everything. And then I love my stuff with Pete. You can glance at it and think it's really surface material, but it's not. Matt Weiner does not write surface material. So I love everything I have with Pete. [Hildy] has definitely grown to see him change.
Q: How far in advance do you find out when you're in an episode?
A: They're the most secretive production ever, so I don't think I even find out till an episode before or two episodes before. They might give me a heads up or put me on hold for some dates, but sometimes I don't even read the script. They just give me my sides, so when I watch the show I basically consider myself an audience. But because most of my stuff is really with Pete, as long as I know that relationship it doesn't matter.
Q: Do you have a history with any cast members?
A: The only thing I can think of is when I was in New York I did some background work, and when Rich [Sommer] did The Devil Wears Prada, there was a scene where he was doing something and he was with his friends in a diner and I was placed right next to him. At the time I didn't know who he was and he didn't know who I was.
Q: Do a lot of your friends and family watch the show?
A: Oh yeah, definitely, my parents watch it and love it, and a lot of my friends will wait till it comes out on DVD to watch it in a smaller timeframe, which I'm definitely a fan of as well.