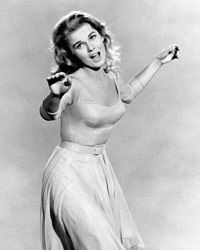 The big screen adaptation of a Broadway smash, Bye Bye Birdie (1963) concerns a rock 'n' roll idol — modeled after Elvis – who goes on The Ed Sullivan Show to drive record sales for his song "One Last Kiss" before being sent overseas by the army. Although the film stars a few of the Broadway show's original cast (Dick Van Dyke and Paul Lynde), the real star here is actually Ann-Margret, whose flirtatious performance transformed her into America's sweetheart and a sex symbol all at once.
Director George Sidney was so aware of Ann-Margret's potential for superstardom that he reportedly rewrote the script to give her more screen time. Indeed, the starlet's famous blue-screen rendition of the title song is the first, last and most memorable thing you'll see.
Initially, the film received lukewarm reviews from the critics. The New York Times claimed the movie had lost the "pace and sparkle" of its Broadway predecessor while the New Yorker's Pauline Kael asserted "the sit-com plotting is tedious." None of that has stopped the stage version from remaining popular with high school drama clubs to this day, which may partially explain why Entertainment Weekly ranked it as 38th in its 2008 list of the 50 Best High School Movies.
Ann-Margret would go on to star in other box office hits like Tommy and Grumpy Old Men, but the flick that she's probably most famous for is Viva Las Vegas, in which she costars not with an Elvis impersonator but with The King himself.