The Final Episodes
Sundays 10/9c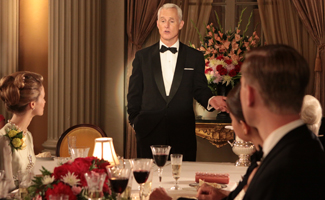 If there's one thing the characters on Mad Men know how to do (besides keep secrets) — it's how to celebrate. The Draper clan and the Sterling Cooper gang have both done their fair share of party-going and party-throwing. Sometimes the bash is in a formal setting; sometimes not. But over the course of three seasons, we've watched Peggy twist, Jane stumble, and even Duck meet Crab. In recognition of New Year's Eve (the biggest party of any year), here's a list of ten memorable Mad Men shindigs.
1. Peggy's Belle Jolie Pitch Celebration (Episode 108, "The Hobo Code")
Having sold Belle Jolie on her "Mark your man" copy, Peggy celebrates with the secretarial pool at P.J. Clarke's after work. Most of the office's junior members turn up, and head to the dance floor where pairings past and future come to life: Paul cha-chas with Joan; Harry and Hildy do the twist. Just hours after their impromptu tryst, Peggy tries to lure Pete on to the dance floor only to be turned down with this bring-down: "I don't like you like this."
2. Election Night (Episode 112, "Nixon vs. Kennedy")
These election night festivities give us a picture of Sterling
Cooper's staff at its most hedonistic — non-stop alcohol and the
ever-popular "What color are your panties?" game! And to
raise the bar a few notches, this bash also featured the world
premiere of Paul Kinsey's one-act play, "Death Is My Client." Of
course there can be consequences when id overrides ego — and for
Harry, after his hookup with Hildy, that meant weeks in the
doghouse.
3. Paul's Party in New Jersey (Episode 201, "For Those Who Think
Young")
This Montclair meet-and-mingle provides a
glimpse into Kinsey's life, like meeting his then-girlfriend Sheila…
and seeing what furniture he's lifted from the office. It also
better-clarifies Joan's history with Paul, and gives us a peek at
Peggy's flirting skills. As parties go, this one was positively filled
with backstory.

4. Grin and Barrett Celebration at the Stork Club (Episode 207,
"The Gold Violin")
What should be a happy night out in honor of ABC's pickup of
Grin and Barrett ends messily for Don and Betty when Jimmy spills the beans on Don
and Bobbie and then calls Don "garbage." Heading home,
Betty vomits in Don's new Cadillac.
5. Betty's Dinner Party (Episode 208, "A Night to Remember")
What could go wrong when you have Duck and Crab on the
guest list and Heineken on the menu? Plenty. Don's strategy for proving
Heineken's appeal to upscale housewives embarrasses Betty whose
nerves are already frayed. The
evening ends badly — Don denies having an affair while
Betty spends the next 24 hours suspicious and despondent… in that same party dress.
6. The Sterling's Kentucky Derby Party (Episode 303, "My Old
Kentucky Home")
In an episode filled with social gatherings, this one — hosted by
Roger and Jane at the country club — is arguably the toniest. As
if Roger crooning in blackface, Jane getting tipsy, and the
Campbells cutting the rug aren't enough… Betty meets the mysterious Henry Francis, changing the
course of the Draper family history.
7. Joan's Dinner Party (Episode 303, "My Old Kentucky Home")
Roger wasn't the only one to enjoy a musical interlude that night.
Encouraged by her husband, Joan pulls out her accordion and plays a French ditty for her guests. Who knew Joan could sing so enchantingly? C'est
magnifique!
8. Joan's Farewell Party (Episode 306, "Guy Walks Into an Ad
Agency")
The Sterling Cooper team once
again lets it all hang out. Acknowledging Joan's last day, the PPL gents join in on the fun, that is until Lois gets in the driver's seat of a lawn mower. Accidents ensue, leaving Roger to wryly observe, "Somewhere this
has happened before."
9. Sterling Cooper 40th Anniversary Gala (Episode 310, "The Color
Blue")
Sterling Cooper celebrates again, this time in black tie. Although the
event is incredibly glamorous, and Roger and Don bury the hatchet
long enough to exchange pleasantries, many attendees
are holding something back: Lane knows that the agency will be
sold again; Bert feels melancholy about aging, and Betty struggles with the fact
that her husband is not who she thought he was.
10. Margaret's Wedding (Episode 312, "The Grown Ups")
What should be the happiest day for Margaret hits a major snag: It's the day after the Kennedy assassination so optimism and glad
tidings are in short supply — as are waiters and cake. While the
Campbells decide that their presence is unnecessary, Don insists that
he and Betty attend.
Have other favorites? Tell us below in the comments. And if you need more New Year's Eve reading, check out last year's list of Mad Men locales.