The Final Episodes
Sundays 10/9c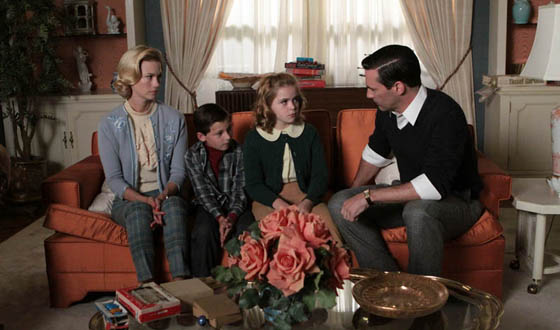 Now that you've gotten your Mad Men finale debates out of the way (Will Betty marry Henry? Can Sal ever return? What about Suzanne Farrell?), it's time to discuss the clothes. The finale's plotlines may have been particularly shocking, but the clothes were pretty much on par — and maybe that's exactly the point.
This season has been all about unraveling, from Betty's marriage and Peggy's morals to Don's very identity. We got a hint of this at the very beginning of the season, when the stewardess slowly peeled off every layer she wore. Now that the artifice has been stripped, we can finally see what's underneath each person — their desires, their feelings, who matters to them (and alternately, who they're willing to abandon). That means the archetypes we've explored all season in the clothes are more important than ever.
Let's start with the heartbreaking scene with Don, Betty, and the kids. As Don and Betty announce their divorce to the children, the words and feelings are fractured but the aesthetic is that of the perfect American family: Sally's Peter Pan collar, Betty's sweater set, Don's perfectly pushed-up sleeves exposing the starched white shirt underneath his sweater. They look like a Norman Rockwell painting, which only makes the news of the family's breakup feel even more churning.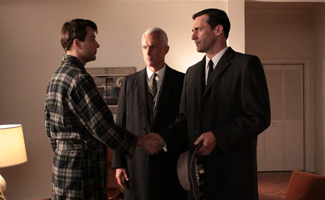 Next
we see Pete Campbell in his plaid bathrobe, receiving Don and Roger as
if he were a prince and they're servants sent to wake him. In fact, Don and
Roger entrust him with a pretty important and proactive "quest," but
the visual reasserts Pete's position as both a favored child and
someone whose pedigree matters more than his actual work. It also sets
up a nifty tableau for Trudy who literally becomes "the woman behind
the man" when she swoops in from the kitchen to save Pete from his own arrogance.
That brings us to Peggy Olson, who's essentially the exact
opposite of Peter Campbell. Roger and Don use Pete for the relationships he
was born into, and they use Peggy for the ideas and words she creates
to escape her own upbringing. Maybe that's why Peggy's outfits this
episode are so plain. It's
because what Peggy
does is more important than even who she is. Is that a manifestation of
the American dream? Sure. But next time, I'd kill for a silk A-line
sheath.
Finally, let's focus on the final image of Don — renegade and
rogue in the night, the wind swooping around — it's all very dramatic.
But there's one small detail, a quiet one, that I think stands out more
than anything. Don's pocket square. Much has been made of Roger
Sterling's three-pronged pocket square, a flourish that seems to
signify him as the king of the office. But in the last episode, Don's
straight square is equally alluring. Having finally confessed his true
identity (identities?) to his wife, and broken out of his corporate
routine to start a new agency of his
own, Don has nothing to hide or spin anymore — including his plain and
straight accessories. Of course, that could all change with Season 4,
Episode 1. See you next year…