The Final Episodes
Sundays 10/9c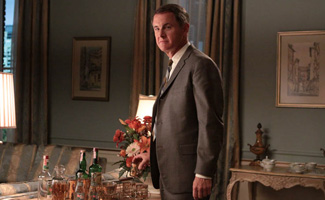 We didn't get to see Duck Phillips until nearly half-way into Season 3, but suffice to say, the man has had some memorable moments. Actor Mark Moses talks about his character's scene at the Pierre, and his favorite line for 2009.

Q: In the beginning of Season 3, many viewers wondered, "Where's Duck?" Was there any question about his return?
A: I wasn't quite sure — just like everyone else. And then I was called and they said, "You'll be back for a number of episodes." I was very excited to come back to the show. I had no idea what Duck was going to be doing in Season 3, so it came as just a big of a surprise to me as the audience.

Q: Duck has a stunner of a moment with Peggy in Episode 7. What was your reaction when you read that twist?
A: My jaw dropped. I had no idea that it was coming. I had no idea
it was coming in Episode 5 either. I didn't see how it was going to
play out. So when I received Episode 7, it was a total surprise to me.
At the table read, it was a great surprise to everybody. It got quite a
reaction. I think Elisabeth [Moss] knew something about it, but I was left in
the dark.
Q: You had a guest appearance on The West Wing years ago. Did you work with Elisabeth then?
A: I know she worked on it, and she did great work on it. But no, we
didn't know each other back then. She was terrific to work with and we
had a great time, considering it was quite an odd matchup. In fact, I
hadn't really worked with her before Season 3.
Q: Was there any special prep for the scene at the Pierre? Was it a closed set?
A: It was closed to a certain extent. But I think getting in bed
with any stranger is always a little nerve-wracking whether it's in
real life or whether it's just dramatic license. We had a great time
and we discussed certain things during the scene, and I think it came
out really well. I got quite a reaction from people across the country
about the actual scene.
Q: Positive feedback?
A: Basically surprised reactions. And some positive reaction… It
depends how people view Elisabeth's character and what she's going
through. Some were like, "I can't believe she did it"; some people
were: "Peggy deserves something good to happen in her life." It was
either way.
Q: In three years, Duck has transitioned from new guy to
someone quite different… Have there been changes in how you
approach the role?
This year, I thought Matt did something wonderful in turning Duck's
approach to his alcoholism around. By the time you see him, he's got a
new job at Grey, and seems to have come to some kind of peace with his
drinking. He doesn't make any bones about it. He's back in action, and
in a way, more so than in Season 2 when he was still battling it and
going through a divorce. He has a new lease on life. Grey has given him
a new confidence.
Q: In the Season 1 finale, Duck delivers the now classic
line "Good luck at your next meeting." What line from Season 3 most
stands out for you?
A: One of my favorite lines is when he's pitching Peggy Grey
Advertising. And after she turns him down, he looks at her and says,
"Well that's what opportunity looks like, just so you know." I think in
many ways, Duck gets inside Peggy's head and what her options are.
There are other options outside of Sterling Cooper and might be to her
advantage to consider them. I think he had a very realistic pitch and
offered her something that wasn't just BS, but was a legitimate step up
in the business. I think that was all very out in the open. Duck sees
how advertising business is moving and that women are going to be
needed in it.
Click here to read Mark Moses' interview from Season 2 »
Click here to read Mark Moses' interview from Season 1 »