The Final Episodes
Sundays 10/9c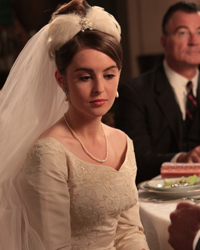 The first few moments of Episode 12 immediately establish its big theme: Disorientation. America is about to be turned upside-down by the Kennedy assassination, but that's not where we are yet. Instead we're at the office with the Sterling Cooper crew. Thanks to a busted heater, they're bundled up in hand-knit mittens, large wool coats, and in the case of Lane Pryce, a very smart (and slightly dangerous looking) pair of black leather driving gloves. That the office — the ultimate place of hold-it-together natty decorum — is now as chill as the Rockefeller ice rink knocks our usual perception of Sterling Cooper sideways. And it's only the beginning.
Margaret Sterling has often resembled a child in grown-up clothing, but the electric blue suit she sports while crying about her impending wedding takes that image to new levels. Short and boxy, it fits the period silhouette, and because it reveals her arms, it also makes Margaret look like a girl who's outgrown her clothes but refuses to discard them — a nifty metaphor for her spoiled attitude. The second flash of Margaret — weeping in her wedding dress — underscores the upside-down themes of that storyline. Plenty of brides probably break down in their gowns for various reasons, but they usually pull it together before anyone sees them. Here, we see everything.
That includes another romp between Duck Phillips and Peggy Olson, during which our preconceptions about the buttoned-up ad man get subverted by a small, fun
detail — Duck has a tattoo on his left arm! Meanwhile, Peggy seems to
have replaced her signature bow-at-the-collar with her Hermes scarf. It
looks good on her, elegant even — but its meaning makes me cringe
every time I see it. That's got to be another subversion. How else could an Hermes scarf ever make you scowl?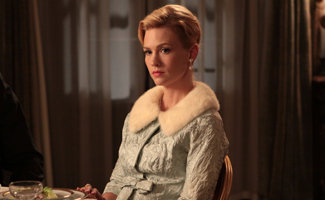 Roger Sterling's toast at Margaret's wedding was actually
really nice, as was the inside-out visual of Jane Siegel in a black
scalloped dress… glued to a spot in the hotel kitchen. Doubtless the
dress was meant to be seen only on the ballroom floor. But there's one
outfit in this episode, at the wedding specifically, that matches the
character's intentions and actions perfectly: Betty's ice-blue suit
with a white fur collar. Her ensemble nicely encapsulates the
cold-shoulder she displays towards Don the whole episode.
Finally, we see Joan in a headscarf, a dowdy sweater, and no
makeup — something that would have been unthinkable if it hadn't been such an upside-down,
inside-out kind of day. And Betty declaring she would no longer be Mrs.
Don Draper? Perhaps the biggest subversion of all. But if she's not
Mrs. Draper anymore, who will she be — and will she get to keep all
the jewelry?!