Returns April 5 at 10/9c for the
Final Episodes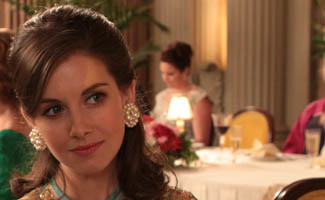 Alison Brie (Trudy Campbell) shares her thoughts on Episode 12′s shocking historical events, Trudy and Pete's nimble dance moves, and why the Campbells might actually be one of Mad Men's most functional couples.
Q: Trudy's marriage with Pete has weathered a few storms. Have you learned anything about real-life relationships from your on-air one?
A: Trudy has taught me that one of the most important things is compromise. What keeps her and Pete going strong is that she can go with the flow. It would be better if both parties were doing this, though [Laughs]. I think Trudy is one of the best wives on the show. I loved how they've come together in their marriage this season. Matt [Weiner] said, "You know, last season you were both working out the kinks." It wasn't common for couples to live together before marriage. So all the things you figure out today over the first two years of dating, back then you were figuring it out over the first two years of marriage.
Q: Pete's reasons for not attending the Sterling wedding are obvious. What's the best excuse you've used to get out of a wedding?
A: I can't think of a good answer, because I've never gotten out of one! I kind of love going to weddings — it's a guilty pleasure. I've never been the wedding-y type girl dreaming about the big day, the dress, but I always cry. Always. Even if I don't know the bride that well, I'm verklempt!
Q: One of more pleasant surprises this season was the Pete and Trudy dance. How much rehearsal did that take?
A: We rehearsed twice a week for a month. I believe Vincent [Kartheiser] was taking lessons a few weeks before me — I think he needed a little more time. I had movement training and ballroom dancing experience but had never done the Charleston. It's so vibrant and so vigorous. We didn't shoot the dance scene until 2 AM. We rehearsed for camera, then they decided to put the moves in a different order. Here we had a choreographed dance but we had to rearrange on-set.
Q: Pete and Trudy ruled the dance floor.
A: Some people think that Pete uses Trudy to get ahead but I think that Trudy is right there with him. She wants him to look good. And there's a great moment with Jennifer Crane, a competitive moment, where Jennifer is edged off the dance floor, and I think Trudy is saying, "Maybe you can have babies — but I can dance!"
Q: The design of the Campbell apartment is so distinct. Are there any set pieces you'd like for yourself?
A: I love the signature wall in the dining room that's teal and the far wall that's orange. I love the mod style. It's very Trudy. She likes to be at the forefront of style, dressing herself, her hair. There's always a new vase or piece of art. I also love the three animals on the wall, I'm always trying to figure out if it's cat? giraffe? cat?
Q: Do you answer if someone shouts "Trudy" at you in the streets?
A: It has never happened, but if they did, I would absolutely answer!
Click here to read Alison Brie's interview from Season 2 »
Click here to read Alison Brie's interview from Season 1 »