The Final Episodes
Sundays 10/9c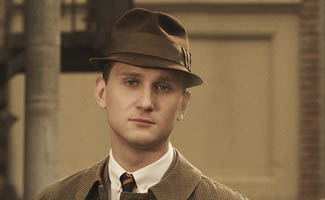 The actor behind Sterling Cooper's Senior Vice President of Account Services speaks to AMCtv.com about competition on the set then narrates a typical day on the set.
Q: Pete and Ken compete for Head of Accounts the entire season. Are there any off-set competitions in the cast?

A: I feel very competitive with Robert Morse off-set. We often duke it out. He always wins. I used to be more competitive. Sure, I like to win when I play basketball or board games or video games, but my day isn't ruined if I lose. I'm always up for a rematch. In all seriousness, that's something that's nice about maturing. When I was right out of college, I felt competitive with some of the guys in my class over career stuff. It's funny now to think about it — that a friend getting a job or something had anything to do with me… I think that my relationship with my wife has played a pivotal role in the chilling out of Aaron.
Q: In spite of all the drama at Sterling Cooper, Ken seems to take everything in stride. Is there anything from this season that would've shocked you in real life?
A: If I had been made co-head of accounts I would have been shocked! Or if someone gave me a snake and told me I was moving to Bombay. I'd certainly be surprised to see someone's foot run over by a lawnmower.
Q: What's your favorite Ken moment this season?
A: I loved working on the stuff with Vincent [Kartheiser] from Episode 1. The scene in the elevator where Ken and Pete are being so magnanimous with each other was hilarious to read and a blast to rehearse and shoot.
Q: Describe a typical day on the set.
A: Arrive. Eat. Shave. Talk. Makeup on. Hair slicked. Suit on. Tie tied. Tie re-tied. Tie re-tied again. Wait. Talk. Snack. Rehearse. Wait. Act. Wait. Act again. Wait. Lunch. Wait. Rehearse. Wait. Act. Wait. Snack. Act. Tie untied. Suit off. Makeup off. Hair rinsed. Leave. Hope I did a good job.
Q: Your character is associated with accessories: A lighter, a watch… Anything you'd want to steal from the set?
A: The backdrop. We've been dying to make a trip to New York. Or maybe the watch. But it doesn't work.
Click here to read Aaron Staton's interview from Season 2 »
Click here to read Aaron Staton's interview from Season 1 »