The Final Episodes
Sundays 10/9c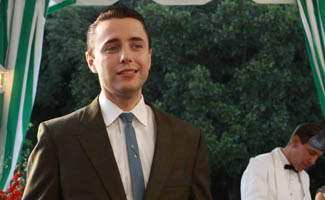 The actor who plays Sterling Cooper's Co-Head of Accounts talks about keeping expectations in check and issues a warning to his future tailor.
Q: Pete's complexity never ceases to amaze. Are you still discovering new things about him?
A: Lots of the stuff about Pete Campbell comes to me from Matthew [Weiner]. He told me at the beginning of the season some of the transitions the character would be going through. I try not have expectations for the character, or assume to know what's going to happen, or how he's going to react. It's hard to be surprised because I'm not expecting anything.
Q: Pete is a guy some people love to hate.
A: Well, I don't know if I consider him the bad guy. Among the people in the office, I don't think he's considered the bad guy; he's considered a nuisance. I don't know that anyone feels threatened by him. If you think of the bad guys, you might think of someone coming in to fire everyone. So for them, it's PPL. For the audience — I don't know… I try not to assume what the audience is thinking either. I've met people who dislike the character; I've met people who like the character.
Q: What have been your favorite Pete moments this season?
A: Pete's moments with Joan in [Episode 8]. I just loved doing that scene. I never really worked with Christina Hendricks. We're both hiding something from a whole group of people in our lives; there's a conversation happening underneath the actual conversation. I've never really had more than a couple of lines with Christina so that was great for me to do. I also like working with Aaron Staton. He's got that character down and he brings such energy and such light. It's a show that doesn't have a lot of characters that are optimistic or happy.

Q: Before Season 3 began, you said there would be more singing and dancing. You weren't kidding.
A: That was great. I had a lot of fun doing [the Charleston]. Everyone on the show is an actor; we're not afraid to perform. No matter who it is, if they'd given Jon Hamm or anybody else the task to learn that dance, it would have been a joy for them to do it. When creatives and writers and directors push the people around them, it's how these great moments are made.
Q: Have you noticed the writers using personal quirks for your character?
A: Of course. The writers on the show are blessed observationalists who spend a lot of their time around us, and very aware of things they can pull from us. They'll write little things here and there for us that work in our favor. But also, they have stories of their own they want to tell. It's not like they're sitting in a room going, "OK who are all of these actors? What can they do and let's just do that."

Q: People are obsessed with the look of the series. Has working on this show changed your personal style?
A: It has in the sense that when I do put on a suit, I know how it should fit. I know about collars, sleeves, and how to tie a bow-tie… things I didn't know about at all three years ago. When I go to a tailor, that tailor better know what's up — because I do. But I've literally been wearing the same pair of jeans for the past five days. I'm still that guy.
Read an interview with Vincent Kartheiser from Season 2 »