The Final Episodes
Sundays 10/9c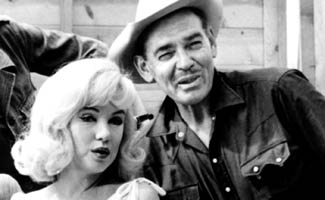 At the end of the 1961 Western The Misfits, Clark Gable's grizzled wrangler frees the horses he'd intended to sell to the slaughterhouse. "I've just gotta find another way to be alive now," he says. "If there is one." It's a poignant comment in a movie so focused on the dying of the Old West. It's also a prescient statement on the film itself since its release was followed not long thereafter by the deaths of its leads.
Penned by legendary playwright Arthur Miller, directed by Oscar-winner John Huston and starring heavyweights Gable, Marilyn Monroe and Montgomery Clift, The Misfits had all the makings of an instant classic. Instead, it's known mostly for its macabre aftermath: The day after production wrapped, Gable suffered a severe coronary thrombosis and died in the hospital. As for Monroe, she'd be dead of a drug overdose just a year and a half later. And while Montgomery Clift lived a few years longer, it was one of his last films. (The night Clift died, The Misfits was on TV. When asked if he wanted to see it, the actor replied, "Absolutely not." Supposedly, his last words.)
It's no surprise The Misfits took such a toll on its cast. Monroe (who was going through a divorce with Miller) spent the production depressed; Huston, often drunk, had to be pried from the gambling tables; Clift developed his own drug and alcohol dependency; and the aging Gable was so bored waiting around for everyone that he opted to do his own stunts — one of which involved being dragged by a truck at 30 mph. On the last day of filming, Gable prophetically remarked, "Christ, I'm glad this picture's finished. She [Monroe] damn near gave me a heart attack."
The Misfits is the last completed picture for both Gable and Monroe. Although critics praised their performances, they complained the movie felt disjointed. ("There is a lot of absorbing detail in it," the New York Times said, "but it doesn't add up to a point.") Audiences agreed, and the most expensive black and white picture to date just barely earned back its production costs. Today, however, the haunting nature of Gable's and Monroe's swan songs has earned the picture cult status. Yesterday's flop has emerged as much more than a curio for its iconic stars.