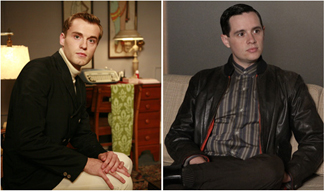 Sterling Cooper's dynamic duo of Kurt and Smitty are the new kids on the block. Edin Gali (Kurt) and Patrick Cavanaugh (Smitty) talk about their real-life friendship, whether they've ever been dressed down by other bosses, and strutting around the set in costume.
Q: Your characters are generally featured together… Did you audition together?
PC: We did not audition together. I think originally the plan was that these two guys were going to pop up in that episode of Season 2. It was just a one day, guest star kind of thing. And we met at the table read, and hit it off right away. We became buddies and enjoy each other's jokes and company. So it worked out.
EG: Like he said, the first time we met at a table to read. It was just one thing, and ended up being what it is today. They kept bringing us back. All my friends are always like, "Dude, I can't imagine Kurt without Smitty, or Smitty without Kurt. You guys are like partners in crime."
Q: Do you spend time together off-screen?
EG: We said we were going to go hiking — he has a dog, I have a
dog. But unfortunately we haven't. We call each other all the time.
PC: We're always checking in with each other. Especially when we get
a hold for an episode, we call each other right away: "Did you get your
hold too?"
Q: Since you play the office's link to the youth movement, did you brush up on your 1960s music and culture?
PC: I researched the time period, and both my parents grew up in the
era, so I talk to them a lot about it. You also pick people brains on
set because it's the little things… It's not so much the culture
aspect, it's making sure to sit up straight, or if the line is, "I have
to go to the bathroom," you don't say "I gotta go to the bathroom."
You're very aware of how our language has changed 40 years later.
EG: It was so proper compared to what it is today, so much more pronounced.
Q: Does that carry over in your day-to-day life?
PC: I sit up straighter!
Q: In Episode 9 this season, both guys get a dressing down by Don over the Hilton campaign. Have you ever had a similar experience on other jobs?
PC: My very first job when I moved here about ten years ago, I did a
really low budget non-union horror movie. I had no experience on set
and I was so excited to have a part, and it was just an awful
experience in that the director did not care about actors. It was: Get
it right the first time because we don't have money for film.
EG: I consider myself very lucky. Mad Men was one of the first things I ever booked. I hope all my next jobs are like Mad Men.
PC: I always tell my friends, we've hit the guest star lottery. It's
not filler, something you zone out to. It's art to me. And that starts
with Matt [Weiner], he's created something amazing.
EG: You appreciate every second. If you had a genie, that's the wish you'd ask for.
Q: Edin, what was your reaction to last season's episode in which Kurt nonchalantly comes out as gay to the group?
EG: I thought it was so amazing. I didn't expect for that
character to go there. I was beyond excited. What I also found out is
that Matt specifically writes all my lines. I just look at them, and
think, "How the hell does he come up with that? It really is what a
European would say." That's how my father speaks!
Q: Patrick, you appeared in one of this season's most talked
about scenes — the pot party in the office. Was rehearsing that funny?

PC: For me, it was a little nerve-wracking. I had played stoners
before, definitely the more cartoonish version of what it's like to be
stoned. Matt said, "Don't be different. Let the words be what is the
stoned part." When we shot that, by the time when we're supposed to be
stoned, it was 3 or 4 in the morning, so we were in haze anyway. But we
had a lot of fun.
Q: Much has been made about the show's wardrobe, but you guys don't get to wear the buttoned-up suits…
PC: Thank goodness! We strut around like peacocks. I always tell
Janie [Bryant], "You just painted our pants on." In the last episode, our pants
are so tight, it's ridiculous how they fit. It's always an adventure when
we go for costume fittings, that's for sure.
EG: Mine are even more out of this world. Those yellow sweaters,
it's like a highlighter. When we come on the set, literally everyone
stops and stares.