Returns April 5 at 10/9c for the
Final Episodes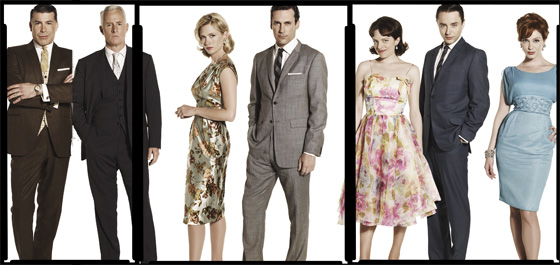 Sure you're obsessed with the music on the series this Season. But ever wondered what sort of songs the characters of Mad Men would tune into on the AM dial? Starting this week, the iTunes store is featuring individual playlists for seven of the show's main players: Betty
Draper, Don
Draper, Salvatore
Romano, Roger
Sterling, Joan
Harris, Peggy
Olson and Pete
Campbell. You can also listen to samples of these music tracks on each of the relevant character profile pages.
Since these lists were compiled by creator Matthew Weiner, producer Scott Hornbacher, composer David Carbonara and music supervisor Alexandra Patsavas among others, they actually provide you with fresh insight and a knowing nod: Patsy Cline's "Too Many Secrets" is on Betty's list; "I'll Be Seeing You," by Liberace is on Sal's. Other stars of a bygone era include Dean Martin, Ella Fitzgerald and The Platters.
The playlists (which each contain five songs) are now available on iTunes. The Season 3 DVD set will also include a special insert with tracks and downloads.