The Final Episodes
Sundays 10/9c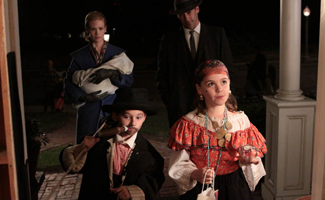 Of course Don Draper reveals his "true self" in the Halloween episode. While kids are walking around in costume, Don finally drops his disguise and reveals his past to Betty. Dick Whitman was a different guy, and he wore different clothes: Checked shirts with room in the sides to show a young man who didn't always get enough to eat; pants worn through to the knee and a little bit too short. In the case of creating Don Draper, it seems clothes really did help make the man.
Accordingly, every character's outfit really stuck to their archetype this time around. Joan's deep blue dress offsets both her hourglass figure and her flaming red hair. In Episode 11, her hair reflects not just her sex appeal but also her rage when she deftly smashes a flower vase on Greg. Peggy's pussy bow is thinner and more wilted than ever, a sign of her withering will at work (of course, her affair with Duck Phillips contributes to that too, but this blog is limited to sartorial choices, so we'll leave that alone). And Betty Draper strips herself bare — white cardigan, ponytail, no makeup — and reveals, out loud to another person, that her husband is not who she wants him to be.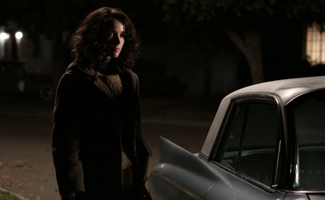 All
these visual cues of "realness" made me reconsider Suzanne Farrell's
outfits, which of late hardly evoke the nymphet we first
glimpsed frolicking in a white dress for May Day. But this episode makes me
conclude that's exactly the point: Don likes Suzanne Farrell exactly
because there's no artifice. She tells the truth and her actions
reflect what she wants in every specific moment. Compare that to
Betty's wardrobe, which seems to be bejeweled and tailored to harness
her anger. Suzanne can't be bothered to corset her desires with
something from Oleg Cassini. She simply is. A past comment mused that
Suzanne's unfitted wardrobe is a harbinger of the Free Love movement to
come, and that's a great observation. This episode, we get to see the
idea before the aesthetic.
I want to take a quick detour to speak about Annabelle Mathis,
Roger Sterling's old love. When she first appeared in the Sterling
Cooper office, her Chanel tweed suit was impeccable, and her
accessories — the black satin bow-tie, the piles of pearlized beads –
were amazing. But they're also a hallmark of the Chanel look even
today, and it struck me that Annabelle's outfit is one of the only ones
you could take completely and wear today with minimal adjustment. Sure
you'd have to unglue your hair and perhaps put on some biker boots to
give it kick — a heavy touch of eyeliner would also help — but
really, it was kind of enviable.
And now back to disguises. This episode showed some characters
shrugging theirs off, consciously or unconsciously. But soon –
Saturday, to be exact — we will be putting our costumes on. That means
we get to end this Fashion File with a really fun question – Who's
dressing up as a Mad Men character for Halloween? And what will you wear?! Leave your answers below.