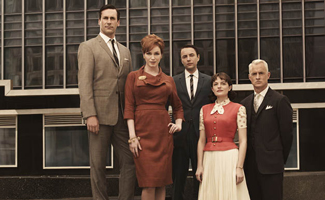 Have plans on Sunday? Cancel them! Starting at 10AM ET on Sun., Sep. 27, AMC will be re-airing all six of Mad Men's Season 3 episodes to date. (We're just about at the half-way point of the season.)
That means if you haven't already seen them — or need to refresh your memory about certain details (just what was Don doodling during the meeting in this most recent episode?) — Sunday's the day to do it.
Click here for Sunday's schedule.