The Final Episodes
Sundays 10/9c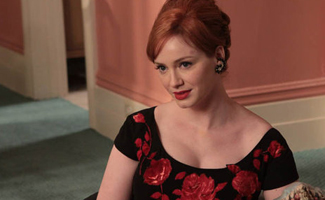 Just three episodes into Season 3, Mad Men got a pick-up order from AMC. That news did not go unnoticed by the papers:
• The New York Times said the renewal came "to the surprise of absolutely no one." The news was also reported in the NY Daily News, the AP, the LA Times and the Huffington Post among others.
• IF magazine talks to Matthew Weiner. Says the series creator about the show's fans: "Sometimes they're confounded by me and sometimes they're entertained by me, but that's something I never expected." Good on you, Maddicts.
• USA Today spends some time with legendary ad man Jerry Della Femina who says that if anything, Mad Men "underplays" the drinking of the '60s. Also: "We'd take a blind vote to name the person at the agency you'd most want to go to bed with. We also took a vote on the person of the same sex you'd like to go to bed with. We did this for 15 years."
• And now, for the female point of view, the Boston Globe has an op-ed about the culture of Mad Men.
• One interview with Elisabeth Moss ran in a few papers: This link is from the St. Louis Post-Dispatch. Praises the piece: "[s]he became one of last
season's breakout stars by using glassy-eyed glances and awkward pauses to
express anguish, frustration and triumph, all with a sugar-sweet voice that
reminds you of a girl heading out for her first prom. "
• The Hollywood Reporter tries to unravel the tangle of craft categories, which are continually being overhauled, sometimes to confusion.
• Some highlights of the reviews of Episode 3, "My Old Kentucky Home": Alan Sepinwall declares this the quote of the series: "I'm Peggy Olson, and I want to smoke some marijuana." The LA Times opened their recap with the same line. Meanwhile, the NY Times ponders, "Is it just me or is 'Mad Men' slowly turning into 'The Sopranos'?"
• Elsewhere: The Chicago Tribune has a hilarious subtext rewrite
of Jane and Joan's encounter. One example… Jane: "It's great to see
you too, Joan. Have you noticed I'm even thinner? Also, I'm rich now.
Jealous much?" The San Francisco Chronicle also gets in on recap action as does the Wall Street Journal, The Onion's AV Squad and New York magazine.