The Final Episodes
Sundays 10/9c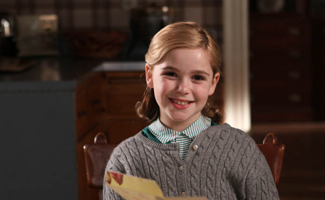 In past seasons, Sally Draper has puffed on cigarettes and mixed cocktails. This season, she steals money and drives a car. Kiernan Shipka talks about what it's like to play the oldest child in the Draper household.
Q: You're back for a third season. Is it easier to play Sally now that you have so much experience?
A: I think throughout the years, I got to know Sally better. All in all, it's been great to play her.
Q: Does it ever surprise you what Sally gets to do?
A: It's so well written and Matthew Weiner is such a brilliant
writer. You know, you're not surprised with how brilliant he is because
he's done it so many times, but you're surprised with what he writes
for you. Every week, at the table read, it's wow.
Q: There's been a lot going on for Sally already this season. What's it like working with Ryan Cutrona (Grandpa Gene)?
A: It was amazing to work with him. He's so nice. We had worked a tiny bit together before, but not much. At the beginning of the season, we chatted a lot off set. It was easy to connect with him because we became very good friends.
Q: So was that you behind the wheel of Gene's car?
A: No. [Laughs]
Q: How do you spend your time on the set between your scenes?
A: It's different every time. So time I'll go back to basecamp and chat
with people. Sometimes you'll just go off the Draper home, but still be on the set and chat with everybody.
Q: 1963 is a pretty big year in American history. Have you studied it in school, or are you brushing on what's going?
A: My mom tells me a lot about the '60s. I studied a little bit of that in school. And chatting with some of my mom's friends, I've learned a lot too.
Q: What parts of Sally are most like you?
A: I do do lots of ballet like Sally. It's always fun when I do ballet on the show. I had never done the maypole but that was so fun to do. The kids were nice. And the choreography was beautiful.
Q: What do you like best about being Sally?
A: Everything is fun about Sally. She's such an adventurous girl.
Q: Do you have plans for Emmy night? Will you be going, or staying up to watch?
A: I don't really know right now!
Read an interview with Kiernan Shipka for Season 2 »