The Final Episodes
Sundays 10/9c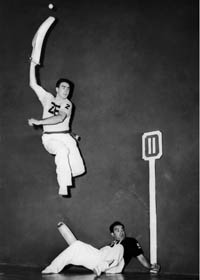 The '60s were the Golden Age for jai alai. Time magazine hailed its "bursts of breathtaking action" while celebrities like Johnny Unitas and Buddy Hackett gave the sport a certain (temporal) luster. Staged on a 176-foot court called a fronton, the game pits two players equipped with oversized basket-like gloves against each other for a supercharged game of handball. Catching and flinging the ball (a pelota) against the far wall, a player scores points by getting his opponent to drop the ball on the rebound, or by literally knocking him out.
Indeed, jai alai — Basque for "merry festival" — can be decidedly un-merry on a bad point. The hard-as-a-rock pelota travels as fast as 180 miles per hour and can easily crush a player's skull or knock out a few teeth. Said Buddy Berenson, son of Richard Berenson who promoted the sport as a gambling alternative, "Whenever a player is hit, the others rush up trying to laugh it off and praying for the sight of blood," …and a pulse.
At its peak, jai alai brought in one million dollars a day in bets, with top players like Paxti (aka Francisco Churruca) earning $20,000 a year. But since its principle draw was the option to gamble, the sport soon ceded ground to casinos and state lotteries. After Spanish players (pretty much the only ones participating) went on strike in 1988, jai alai's fate was sealed. Today, Miami and Dania Beach in Florida remain the only cities with full-time open frontons in the United States. As for Patxi, he retired in 1983, stating afterwards that "I knew it was time to quit when my eyes were quicker than my legs." An appropriate anecdote for a sport with a reality that never quite caught up to its hype.