The Final Episodes
Sundays 10/9c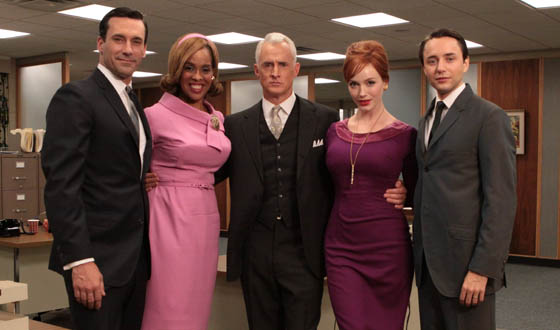 In this AMCtv.com exclusive interview, radio personality and Oprah Magazine editor-at-large Gayle King talks about turning the Oprah show on to Mad Men, her tour of the Sterling Cooper offices for Oprah's upcoming special, and showing off her inner Joan.
Q: Where did the idea for "Oprah Goes Back in Time: The '60s" (title of the upcoming Oprah show) originate?
A: I kept hearing all the buzz about Mad Men, and I said I just cannot get hooked on another hour of nothing. And then my 22-year-old son started talking about it, and my 23-year-old daughter, so I said, "OK, I'm going to watch the first episode, just to see what all the fuss is about." Then I watched the whole thing. So I called the producers over at the Oprah show and said, "Are you guys familiar with Mad Men?" Then I sent Oprah Season 1. Now the Oprah show very seldom does anything for an hour any more — it just doesn't work. So they were trying to figure out what they could do to talk about Mad Men, then one of them came up with the idea of a '60s show.
Q: What attracted you to the series?
A: Looking at the social mores of the '60s. They really are kind of shocking compared to how we live today: Women are pregnant and they're smoking and they're drinking. When they're eating, they order stuff cooked in butter. The kids are riding in the car with no seatbelt, and don't get me started on how women are treated! So I was fascinated by that, and then it turned into, "Let's take a trip back to the sixties," with Mad Men being the centerpiece of the show. And then the Oprah show, as they always do, they just take it to another level and another level and another level and before you know it you've got the people from Jersey Boys and all sorts of stuff.
Q: You host a segment of the show in which you tour the Sterling Cooper offices with Christina Hendricks in character as Joan. What was that like?
A: Well, I was in character too. [Costume Designer] Janie [Bryant] made me an outfit that I have in my closet right now — I can't wait to wear it again! I was playing the new girl in the office, and my question was, "Where are all the black people?" They go, "Well, we're still in the early '60s." So I went on the set and did a behind-the-scenes. I talked to Jon [Hamm] and Lizzie [Moss] and Vinnie [Kartheiser]. And we did a little bit where I was in character with John Slattery and Jon Hamm, too. It was funny because I would go in and out of character, like, "Okay, now let's talk real talk." I also smoked a cigarette — very nasty. I don't smoke, so I didn't do that real well.
Q: What was the dress Janie designed for you like?
A: Well, let's just say I like color. This is what I said to Janie: "I want my inner Joan." I wanted a Joan outfit, or one of Betty Draper's party dresses. That was all I cared about: Either Betty Draper's party dress or the Joan bad mamma jamma va, va, and voom. And I got me a Joan dress! I don't look like Joan in it, but I got a Joan dress. The way Christina moves, just the way she walks — she's got the walk down. She makes everything she's wearing look good.
Q: Janie made a dress for Oprah as well. Did you two compare them?
A: No, but they showed me Oprah's dress — I haven't seen her in it. I told her before she went, "They've got the corset of life." They put this black corset on, all of a sudden I thought, "What size am I, a 4?" Which is nowhere close to reality, but the way it sucks you in, I said to Janie, "Do you have an extra one of these?" I said, "Janie, I'm not kidding, I would like to take mine home." Which I did. And then I had the nerve to ask her, "Do you have one in beige?" I thought if I had one in beige I'd have one in both colors! '60s undergarments? A plus plus plus. It squeezes you in and gives you an hourglass shape.
Q: So the era's undergarments would be included on your own '60s "Favorite Things" segment?
A: Definitely. I didn't know I liked '60s clothes, but I really like the way Janie does it. But I'm glad I wasn't a woman working in the '60s. And if you're a black person, I'm really glad I wasn't working in the '60s.