The Final Episodes
Sundays 10/9c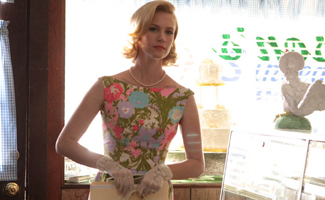 It's always maddening to see characters you care about make decisions you hate. But it's even worse when they look so good while they make those bad choices. That's essentially the vibe for Episode 7, in which we watch our beloved Mad Men characters lie, cheat, flirt, dodge and suffer… all while inspiring us to wonder: "Wait, where can I get that dress?"
So let's get to it. Maybe the most arresting wardrobe image comes at the beginning, when Don wakes up rumpled (and in a pool of blood). Five seconds later in flashback, you see him putting on his armor — the starched white shirt, the shined shoes, the tie that practically zips itself into place. We know soon enough, this perfect shellac will crack. For now, it's so coolly collected or to borrow a phrase from Rachel Zoe: "It's bananas."
Betty, too, looks amazing — first in her wrap-top and slacks, then
in a boatneck dress that emphasizes her post-baby perfection and also
echoes a print that's familiar to '60s buffs — that of Warhol's
silk-screened flowers. Yes, those come along later, but you can't deny
that despite Betty's conventional role as a
housewife (or as her late father called her, "a house cat"), her clothes are
consistently the most progressive when it comes to hinting at future
trends. The coupling of the white lace gloves with the modern print of
the dress was especially exciting.
The Hermes scarf that Duck Phillips gives to Peggy is also a
bit ironic, since we've seen that accessory before — on Betty,
horseback in Season 1. For Betty, that scarf is just another piece of a routinely enforced perfection. For Peggy, it possesses the same danger as Desdemona's handkerchief in
Othello.
And maybe in a bit of lewd foreshadowing, Peggy's moved her accessories
from her neck to her body. In her first outfit, a plaid A-line dress,
there's a giant bow sitting just above her womb. In her second outfit
– which looked a lot like one of Marc by Marc Jacobs'
stewardess-inspired jumpers from his Spring '08 collection — there was
a belt neatly snapped at her hips. Let's face it, this was the cutest
and most structured that Peggy has looked all season, which made it all
the more shocking when she let Duck tear her clothes off.
The idea of right-clothes-wrong-time happens a lot in this
episode: Betty's in a white eyelet tank when she sternly discusses
her financial future with Don; Miss Farrell's dress is both sweet and
modest in that eclipse scene during which she insinuates too much; teen
robber Sandy's checked shift is a harbinger of mod while also looking a lot like a demented Girl Scout uniform.
And as we learned in last week's episode, and are reminded at the
beginning and the end of this one — a little
blood can ruin everything.
One last thought: The plaid shirts and fly-fishing fedora worn by the
fathers during the eclipse? You can buy them now in any Urban
Outfitters, and many 19-year-old boys with shaggy haircuts and neon
headphones are doing exactly that. Another option: Steal them,
as I used to, from your grandfather's closet.