The Final Episodes
Sundays 10/9c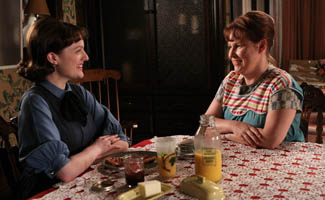 Here's a question: In the Mad Men universe what's louder — the Olson family's voices, or their clashing clothes patterns? It was hard to tell at the beginning of Episode 4, when Peggy's mom and sister flaunt more mismatches than a blind guy in a sock store. In the middle of them, Peggy looks more somber than ever, and quelle surprise! She's wearing a pussy bow.
We take a break from the women to a jai alai meeting, where Horace Jr. sports a white linen blazer, a paisley silk scarf in place of a tie, and — placed neatly on the table — a Panama hat. In my notes, I scrawled down "the love child of Rudyard Kipling and Holly Golightly." Also: "Etro's Spring '08 Men's collection."
Then it's back to the ladies, where we see Sal's wife, Kitty, in a teddy that mirrors the sexy/cute ruffs seen on the Ann-Margret wannabe of Episode 3. Like the aspiring actress, Kitty's long hair and wide-open face express the same innocent sex appeal of Bye Bye Birdie, but instead of wanting her, Sal wants to be her. Alas, all he's got are a secret dream and a pair of blue paisley pajamas.
Here's another scrawl of mine from mid-episode: "Dying for Bobby Draper's mismatched patterns. This kid is a Paul Smith stylist in the making. Sally's ballet top knot also big on last season's runway. Tutu, not so much."
And I think we can all agree that Karen Ericson, aka Peggy Olson's new roommate, is a disaster in the making, right? But at the same time, let's hope they bunk up so we can see more of Karen's wardrobe. In our first glimpse, we see long auburn hair, a body-skimming dress the color of buttercups, and the remarkable ability to raise just one of her eyebrows. Against her easy freshness, the stiff tweed fabric of Peggy's bulky suit look like a box that needs to be cut away.
The final version of Sterling-Cooper's Bye Bye Birdie reshoot (spotlighting not Dick Van Dyke but Pepsi) stars an Ann-Margret stand-in in a yellow dress that's the exact same color and sweet sexiness as Karen Ericson's. And after remembering her Swedish/Norwegian conversation with "roomie" (and polar opposite) Peggy Olson, I wrote down one more thing: "Ann-Margret was Swedish, too."