The Final Episodes
Sundays 10/9c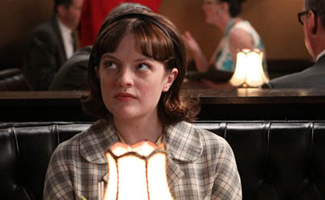 In the course of three years, her character Peggy Olson has gone from naive new girl to ambitious copywriter. Elisabeth Moss talks about her favorite moments in Mad Men — and which scene required her to close her eyes and let go.
Q: We're only halfway through Season 3 and already there have been a number of memorable Peggy moments… Do you have any favorites?
A: One of things I loved is a scene with Don in the office when she
asks, "What if this is my time?" It felt like that one line
encapsulates her entire story… her figuring what she needs
to be doing — who she is, what her life should be. Should she be
working harder? Should she be trying to find a husband? She
doesn't know what she's supposed be doing — and she's afraid she might
be missing her chance to be a wife and a mother and all of that.
Q: Are there any lines from other characters you love?
A: There are so many lines. I think anything John Slattery says
really comes out amazing. And there's one I like from Season 1 –
someone says they're blinded by Peggy's earnestness. I liked that. For
me, that really described her character very much from that season.
Q: Having now spent three seasons living the world of the '60s do you ever wonder what your own life would be like back then?
A: Oh sure. It's almost impossible to try and do … to know where
you would have been. But, sure, I try to. I think everybody tries to. I
would have been a lot like Peggy, I think. I would have been a working
girl. But gosh, who knows.
Q: You come from a musical family. Was singing in front of the mirror, like you did in Season 3 Episode 2, something you did growing up?
A: I think everybody has done that. What's great about some of the
stuff they write for Peggy is that a lot of it is what we've all done
or what we can see ourselves doing. Some of my favorites are when she's
alone in her apartment — those really private and perfect, deeply
lonely, but very normal moments. They give Peggy a lot of those and I
really like that.
I was really nervous about that scene. I knew what I wanted to look
like, and knew what Matt wanted it to look like — basically a person
who is really trying to imitate [Ann-Margret] in Bye Bye Birdie.
Not a musical theater person, not a professional, but somebody who had
seen somebody in a film. He wanted me not to do it badly, to try and do
it well, but not put on that I couldn't sing. I had to alter my voice a
little bit — not that I have an amazing voice — but to make it sound
normal. It was kind of a scary thing to film. It was a little
bit embarassing to do it front of all these people; I had to close my
eyes and let go and pretend that nobody was watching. That was the
only way I could do it unselfconsciously and really go for it.
Q: You were a child actress like Kiernan Shipka. Have you given her any advice on coping with the limelight and the lifestyle?
A: You know, she's such a little grownup, she could probably give me
advice. I do sometimes look at her and think: Wow, I was her at one
point. She's very serious and dedicated, and a very professional girl.
I was the same way. So it's interesting to see that… but I wish I had
been on Mad Men when I was that age!
Q: You play Sarah Jessica Parker's assistant in the upcoming Did You Hear About the Morgans. Did you have to fight temptation to be like the Peggy of Season 1?
A: No, only because the character in the film is much more together
than Peggy. She's controlling and one of those type-A personalities…
She's really like nobody on Mad Men. So it was different but it was fun — I've been doing a lot of secretary roles, between Mad Men and [Speed-the-Plow]. I might be getting typecast as an administrative assistant!
Read an interview with Elisabeth Moss from Season 2 »