The Final Episodes
Sundays 10/9c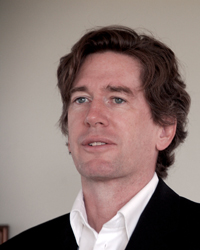 As Mad Men's production designer, Dan Bishop is responsible for the look of the show. He talks to AMCtv.com about how external changes are being reflected in the sets and why so many scenes take place in hotel rooms.
Q: It's 1963 and the world is changing. Is there anything you're doing to reflect that for Season 3?
A: In terms of the look of the show, we're doing it in subtle ways, that sense of deterioration that was happening in 1963 regarding society that historians and Matt Weiner are all very much aware of. He asked that we let that be reflected in condition of set, so we have tried to let certain amount of distress on the sets live on rather than repairing it as we sometimes do. And we tried to make things a bit more cluttered; there's a little less of a 1950s perfection going on. That was a note we definitely got from Matt as well to help support the general direction of the times.
Q: The look of the Sterling Cooper offices are firmly established. Is there anything you do — or can do — to keep it looking up to date?
A: When we were designing new sets, we looked at a color palette themed more towards primary colors — we're continuing to move away from the '50s palette. Remember, it's only six months from the end of Season 2 so we're not looking to make a giant change.
Q: Can you discuss the recent expansion of the Draper home?
A: I think it's the changing of the family, just the growing of the family. The kids used to share a room, and now there are bunk beds in Bobby's room and a single bed in Sally's room. These minor changes are part of the progression that Matt has set up to tell a little bit about the passage of time, and the growth of family.
Q: Does having extra rooms to showcase make things more interesting?
A: Anything that's an addition to the show, is, to me, inherently interesting as we all get to see the characters' lives further revealed.
Q: The show also visits very real spaces: The Belvedere Hotel and Haussner's, for instance, in the season opener. How much research do you do to get the spaces right?
A: We do as much as we can. With the Internet, it's actually a lot faster these days. You can put any collection of words into a search engine and photos show up with what you're looking for. Haussner's was a restaurant in Baltimore that I had actually been to, so that was relatively easy. And there's a location in L.A., called the Clifton Café, which is not unlike Haussner's. The upstairs is a banquet room with paintings hanging on the wall. Even though we had to change out the paintings, the sense of the space and period was a pretty good canvas to stage the scene in. We're always on the look out for environments around L.A. that can play 1963.
Q: Do you prefer conjuring up a room from scratch to recreating a historical space on location?
A: In general, I would prefer to create from scratch. But when the scene calls for a Broadway theater and you realize, well that will take us about six months… I'm more than happy to go to a location that increases production value and enhances the look of the show.
Q: What's up with you guys and hotel rooms? The Savoy, The Roosevelt, The Belvedere …
A: It's largely because New York City is what it is, and if you're looking for a place to have a private moment, where do you go? I know when I go out of town on a film, the production offices end up being in hotel room. Campaigns are run out of hotels… Hotels are just where you can go to conduct all manners of business, or pleasure, and all you have to do is give them money. But we certainly do a lot of them and are constantly having to make them look different from one another.
Q: How much interaction do you have with costume designer Janie Bryant to ensure that neither the clothes nor the setting upstage each other?
A: In general, because the rooms and spaces are large, they occupy a big part of the frame and so I try not go too wild with the color. It can be overwhelming. I try to think like a painter and know where to put the focus. So if I use a color that's particularly strong, I talk to Janie. The Derby Day episode, the Kentucky Derby colors are green and white and some red as well. We let Janie know: There they are — play against them as you will. It's also important to me to know if a scene is day or night, indoor or outdoors. Day light is cooler than interior incandescent light, so we take all that in mind.
Q: Art imitated art in last month's Vanity Fair — a show set in the ad world served as a set for a BMW ad. Were you a part of the shoot?
A: I was as a consultant for a day. I was there with Scott Hornbacher to say, "This is what Mad Men might look like." I didn't get a BMW out of it though.
Q: You won a second Art Director's guild award for last season's "The Jet Set." Is that episode one of your favorites?
A: We put up "The Jet Set" as a nomination because there's a certain percentage of new scenery that has to show up. But I was very much pleased with the way it was photographed, and certainly the environments in the Palm Springs sequence. They were locations that we dressed to a certain degree. Between the beautiful people, the costumes, the photography, and an environment that is very foreign to New York City, even I was like, "Wow that looks good."
Q: You also did production design for A Single Man, the big hit at this year's Toronto Film Festival, and a movie set in the '60s. Do you work differently when you're designing for movies?
A: I don't do anything differently. The pace of a TV show can be faster and there's a bigger machine behind it all — I've got a fantastic construction crew, and get a tremendous amount of support from the studio and producers to design and make scenery really quickly. On a smaller film, your resources are not as vast; a lot of it has to go elsewhere. But we were able to come up with fantastic locations, and it was a great experience working with Tom Ford, who is, of course, a designer himself. For me, I don't see the connection between A Single Man and Mad Men beyond the period. They're completely different events.
Q: Did you at least get a suit from Tom Ford?
A: [Laughs] Not yet.