The Final Episodes
Sundays 10/9c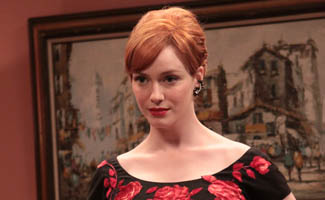 Christina Hendricks chats with AMCtv.com about the direction of Season 3, weddings and another drunk exec gallivanting in his underwear.
Q: Now that we're into Season 3, are there things that still surprise you?
A: Oh yes, this season may be more surprising than ever! The show is about human interactions, so naturally, the deeper you go, the more twisted it can get. Now the audience is beginning to know and understand these characters extremely well, so there's that much more opportunity to explore who these people really are. Season 3 starts to go really deep.
Q: Having skipped ahead to 1963, we never get to see Joan's wedding. Are you sorry you never had a chance to wear a wedding dress on the show?
A: I never thought of that! I'm actually getting married this year, so I've probably had enough of the wedding dresses.
Q: Earlier this year, we did a piece on Mad Men's top ten shocking moments. What was the big shocker for you?
A: I would have to say that Roger Sterling riding one of the models
like a horse in his underwear. [Laughs] Yeah, that was pretty shocking.
Q: In Episode 3, Joan sings a French ditty. Is there anyone's style you modeled your singing after?
A: Not really, I was just terrified! I'm really not a singer, and I
don't speak French, so I was just trying to keep my head above water.
The writers called me up and said, "Do you play the piano?" I said, "No
I don't, but I do play the accordion." They were like, "Oh, even
better!" It was really cool, because I got to take a few lessons and
sort of freshen up. I always loved that instrument. It's so romantic
and it's got this full, rich sound.
Q: We keep hearing about the Mad Men revues. Did you perform in one?
A: [Laughs] I have not performed in one! I have been there to
support them, though. But now that they know I play the accordion, I
don't know how much longer I'll get away with that.
Q: Joan seems to have emerged this season in particular as a style icon. How do you feel about that?
A: It's absolutely a collaboration with the costume designer, Janie
Bryant. Janie has amazing talent. Each woman on the show has a distinct
style. I loved the dress I wore when Joan hosts the dinner party, the
black one with red flowers. It was very Spanish. All the dresses I get
to wear are pretty fabulous.
Q: What's the most interesting encounter you've had with a fan since the show aired?
A: People generally come up to me and say really sweet things. But
I do get a big kick out of it when people think I'm January or
Elisabeth. They'll fight me on it! I'm like, "No, really! I have the
red hair, see?"
Read an interview with Christina Hendricks from Season 2 »