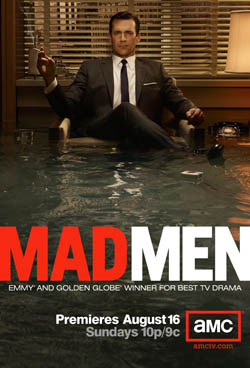 AMCtv.com awards the Talk forum and blog commenters quoted in our weekly "What You're Saying" post with prizes like a Mad Men pen or a Mad Men poster (limit one per person).
New season, new commenter prizes, but always a lot to talk about. Maddicts were remarking on Season 3′s promos, how they were planning to watch the premiere and making plans for a Mad Men avatar-only virtual cocktail party.
• "My favorite is…'Utterly Seductive' That music just nails it…! And the clip of Don's command: FIND A WAY TO WATCH THIS…. So dramatic, so compelling…so 'mad men.'"
• "I'm fixing myself a rye and ginger and taking the phone off the hook
and warning my family DO NOT DISTURB unless the blinkin' house is on
fire. Interrupt and die, people." — Auburn Annie
• "Create your character early and join us. This is as close as we will
come to being able to talk directly to each other for a few hours. The
most fun will be in seeing how everyone represents themselves!" — greytone
Log onto the Talk forum to join in the conversation or start a Mad Men topic of your own. As always, your comments throughout the blog are also welcome.
Posted by Lily Oei
August 14, 2009 11:25 AM
Features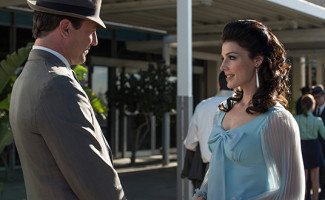 The Season 7 Premiere is draped in red, white and blue, while Peggy adopts a military theme.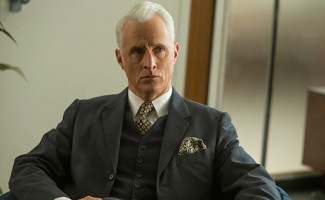 John Slattery, who plays Roger Sterling on AMC's Mad Men, talks about the trick to juggling on camera and his theory on what the show is all about.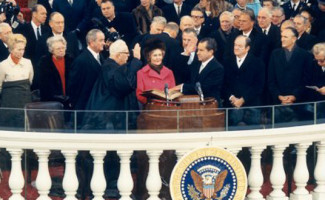 Learn more about Richard Nixon's 1969 inaugural address, which Don watches on TV in the Season 7 Premiere.
Recent Activity on AMC for
Mad Men
Mad Men Categories
online staff
Mac McKean, SVP, DIGITAL MEDIA

Hannah Bae, COORDINATOR OF TELEVISION EVERYWHERE

Monica Bhatia, DIRECTOR OF TELEVISION EVERYWHERE

Lee Dayton, SENIOR PRODUCER

Tim Dirks, SENIOR EDITOR & FILM HISTORIAN

John Frankfurt, DIRECTOR OF ONLINE DEVELOPMENT

Mark Heggen, DIRECTOR OF ENTERTAINMENT APPS

Yoshitaka Ito, DEVELOPER

Erica Kelly, COORDINATOR OF DIGITAL MEDIA

Khalilah Martin, MANAGER OF DIGITAL PRODUCTION

Steve Marzolf, DIRECTOR OF DIGITAL VIDEO

Clayton Neuman, DIRECTOR OF DIGITAL CONTENT

Evan Scott, MANAGER OF DIGITAL VIDEO

Ashley Shaw, DIRECTOR OF DIGITAL CONTENT
blogs
Editors
Cory Abbey
,
Elizabeth Cline
,
T Sahara Meer
Contributors
Shavonne Bell
,
Christine Fall
,
Lee Helland
,
Mina Hochberg
,
Carolyn Koo
,
Faran Krentcil
,
Daniel Mangin
,
Eli Rosenberg
,
Robert Silva
,
Alex Zalben
More on AMC
RSS Feeds
Visit More AMC Blogs