The Final Episodes
Sundays 10/9c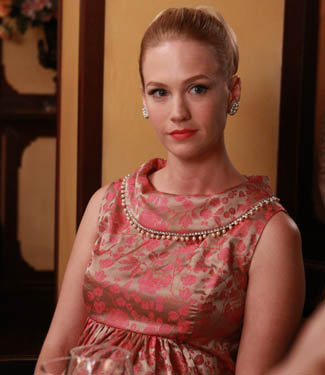 It's two seconds after the opening credits, and Matt Weiner's already giving us a major new archetype. She's Ann-Margret, the star of Bye Bye Birdie whose appealing persona could be called "bombshell ingenue" — or in Peggy Olson's words, a woman who can "be 25 and act 14." That even Ann-Margret herself was quiet and withdrawn in public just adds to the idea that these "dream women" can't exist, and the women of Mad Men are caught more than ever between who they are and who their men want them to be.
With the Swedish starlet comes new clothing references, new makeup choices, and yet another unobtainable aesthetic — impossible youth. Referencing Ann-Margret marks a major departure from last year's standards: Sexpot Marilyn Monroe, no-nonsense goddess Jackie Kennedy, and the spotlessly glam Grace Kelly. Actually, Grace gets a name-drop from Roger Sterling when Betty Draper visits the office. "Hey look," he quips when he spots her. "Princess Grace just swallowed a basketball!" And we can't really argue — Betty's dazzling sheath dress is red carpet-ready, as usual, but this time instead of a diamond bracelet, her standout accessory is her stomach.
The irony is, most of this week's sexiest and most attractive outfits
were worn by women who are neither impossibly youthful nor particularly
va-va-voom. For example, in the American-British dinner scene, Betty's
embroidered sheath is the perfect example of exquisite, grown-up taste.
(If you're looking for something similar, Proenza Schouler often plays
with that shape, as does Calvin Klein. You could also find a black
sheath at Banana Republic or J. Crew, and take it to the tailor for
embroidering.)
Mona Sterling also had a homerun of an outfit — black gloves, hat, heels, and dress that hit just above her knees –
as if Holly
Golightly had suddenly morphed into a sleek panther of a woman. Her
daughter Margaret (who not only sounds a bit like Ann-Margret but also
matches her age and figure) donned a pink-and-white motif that trapped
her nicely in a fairy tale sort of box.
But back to the show's true ingenue, Peggy Olson, who is having her own issues being stacked
against Ann-Margret. Their hair color's the same, but
that's it. She's sporting drop-waist plaid dresses and her steady
succession of pussy bows — shoptalk for ruffled bow ties sewn onto
blouse collars — tie her back to the Raggedy Ann doll that Sally's
cousins drag in front of the TV. Peggy's repellence to Ann-Margret's
appeal is tragically honest — the film star is someone she'll never be.
One last "eternal youth" moment in Episode 2
happens at the end of the show, when Don fixes on a young teacher
leading a joyful Maypole dance at Sally's school. The dance can't last
forever, but for two minutes we get unbridled, totally innocent beauty.
We also get a sharp tie-in back to Don's ghosts from Episode 1:
Look closely at the elfin teacher and you'll see she's wearing a
billowing white nightgown, just like Betty Draper last week, and all the women who brought Don into the world.