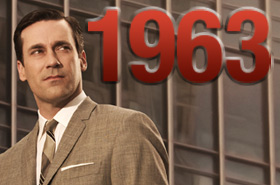 1963 was a year like few others in U.S. history. Race riots, political upheavals and Cold War tensions set the country on edge. See how well you recollect the historical/cultural events of that year. Gov. George Wallace blocked the schoolhouse doors of which university? Who was the highest paid movie star? Find out.Take Quiz »
Bonus question: You all know Season 3 is taking place in 1963, but can you explain why in Episode 1, "Out of Town," the clasp on Don's suitcase broken?
If you answer correctly in the comments section below by Fri., Aug. 28 at 5PM ET, you'll be entered into a random drawing for a Season 2 DVD set.