The Final Episodes
Sundays 10/9c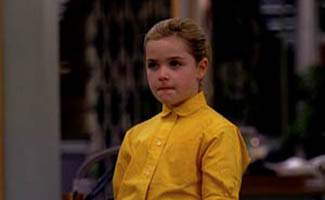 Over the course of Season 2, Sally Draper grew up and got into trouble. She visited Sterling Cooper, tried smoking, received a pair of riding boots, and even mixed cocktails. AMCtv.com spoke with Kiernan Shipka, the articulate 9-year-old actress who plays
the Draper daughter.
Q: Sally Draper has a lot of personality. Do you relate to her personally?
A: I love playing Sally. She is a quintessential girl of the 1960s. People come up to me and say how much they relate to my character. It conjures up a lot
of memories for them.
Q: Did you study the '60s to learn what it was like?
A: I talk to my mother and get her advice about what she was like as a girl.
Q: What's it like working with your TV parents, Jon Hamm and January Jones?
A: They are great. We have fun, and then sometimes, we're very serious.
Q: The costumes you wear as Sally are quite different from what kids wear today. Do you like her clothes?
A: Sally's wardrobe is so pretty. I get advice from my fittings all the time! Sometimes I wear clothes that are like Sally's.
Q: Sally also practices ballet. Do you dance?

A: I love dancing. I dance about 20 hours a week. I play piano, too, but it's not serious yet. It's mostly playing around.
Q: In Season 2, your character gets to order room service. Have you ordered room service before?
A: I love ordering room service. It's my favorite thing to do when I stay in a
hotel.
Q: What's your favorite thing to order?
A: I'm pretty hooked on the French onion soup right now.
Q: At the end of Season 2, your character gets her own pair of riding boots. Do you ride horses?
A: I loved the riding boots. They were really beautiful. I ride Western and English. I would like to do it more.
Q: What do you think Sally will be when she grows up?
A: She could grow up in her mom's footsteps and go to college and have a family, or I think she could be a dance instructor.
Q: What is your favorite thing about being on Mad Men?
A: I love the cast and crew. They are delightful to be around.
Be sure to also hear from Sally's parents:
• The Season 2 interview with January Jones (Betty Draper).