The Final Episodes
Sundays 10/9c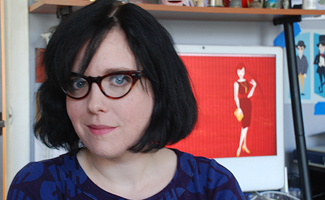 The artist behind the vintage-y Mad Men illustrations on Flickr talks about which images have proven the most popular and whether she'll take requests.
Q: You got your start from a commission by Rich Sommer. Were you a fan of the show before?
A: I have known Rich for years. I had just started watching the show in the first season, and sent him an email. It became this thing, where I would send him a question and he would answer about the production of the show. And one day, he emailed, "Oh I really want to do a Christmas card, can you help me make it?" He knew that I drew, asked if I had ideas, and I suggested mimicking the advertising illustration of the era. I said, "You know what, I'll do it and I'll do it for free."
Q: How do you choose what you draw?
A: When I was doing the season week by week, I'd watch the show on iTunes usually 24 hours after everyone else, or watch at a friend's house. I knew I had to have it up by Wednesday or people wouldn't check. So when the show was running it was: Who hadn't I drawn yet and what I thought the episode would be about.
Q: How long do the illustrations take?
A: If I could figure out from the trailer what the episode was going to be about I would start it. If I was completely wrong, I would have to start over. In most cases, between seeing the show and putting it up, I only had a couple of hours, like five hours for a really simple one. I started out making them really plain, because it was easier. And then as it got more popular, I felt like I had to do a better job. I started drawing really complicated backgrounds. The show is famous for its meticulousness, and I try to reflect that in the simple cartoony way that I draw. Now that there's not one every week, I'll spend longer. The Joan dolls took three weeks.
Q: Do you have to rewatch episodes to get the details?
A: I take screen captures. I don't trace, but I make a note of the way the buttons on a dress look. If there's a striking set piece or something, I labor on it.
Q: Besides the episode itself, do you use anything else for reference?
A: I have a swipe file of period ads. I take stuff from sewing patterns a lot of the time for the women's poses.
Q: Which picture have people responded to most?
A: The very first one: Joan and the Xerox. I did it before the show aired so I didn't even have a Xerox in it originally. Between that and the cocktail recipe guide with Sally Draper… I think they're at 30 to 40,000 hits each.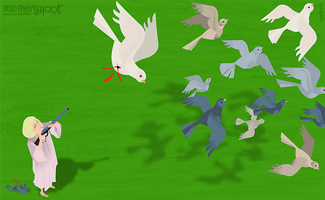 Q: Do you take requests?
A: If I got 50 requests of the same thing, I felt I had to do it. I got hundreds for Betty shooting the birds, so I eventually did it.
Q: Of the illustrations you've made, do you have a favorite?
A: Of the character portraits, the one I did of Paul because I think it's the first time I got a likeness really well — the neckerchief and the snifter. Of the big ones, the one with Jimmy — it's all black background with white furniture. That's one where I think my scene is better than the show's… I'm kidding.
Q: Have you heard from the cast members?
A: I've met most of Sterling Cooper employees. When Jon Hamm was on SNL, a friend who's a writer on the show invited me to watch from the writer's room. That's where I met Matt Weiner for the first time. He was very excited to meet me, and I'm glad he liked me, because it would have been horrifying otherwise. Matt asked me to do a calendar as a cast Christmas present done to his specifications. Everyone has been super-nice, including me in everything. My thought was if I got a cease-and-desist, I would just stop. But instead, I kept getting AMC employees mailing me swag.
Q: Will you be drawing Season 3?
A: I will be drawing. Beyond that, it's a secret.
Q: Finally, is Dyna Moe your real name or an assumed one like Don Draper's?
A: It's my real last name, but Dyna's my nickname. I'm not living a double life. Only my parents and the IRS call me by my real name… and Matt Weiner always wants to, for some reason.