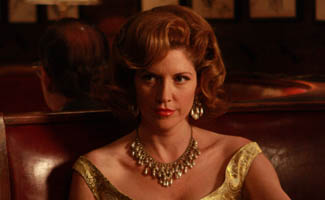 Classically trained actor Melinda McGraw plays Bobbie Barrett, the wife/manager of comic Jimmy Barrett. In this exclusive interview, she talks to AMCtv.com about her character's philosophy, her own love of the girdle, and kissing Don Draper.
Q: One of Bobbie Barrett's most memorable lines is: "This is America. Pick a job and then become the person that does it." Do you agree?
A: I don't think it's quite as black and white as that. I do believe that one way to have a destiny is to choose one. We live in a world where action is what counts. But I also think that there are circumstances that get in our way. The ideal is that America is an even playing field. Is that an ideal? Absolutely. Do I love Bobbie Barrett for believing it? Absolutely.
Q: Bobbie Barrett's wardrobe is stunning. Do you take any inspiration from the show's fashions?
A: I'm ruined now, because I don't want to live without a girdle! But I've always loved and dressed in period clothes — my mother was a model in the '60s. I love rediscovering the glamor. It reminds me of how casual we've become. It's fun to dress just for your husband. It's fun to dress just for work.
Q: Do you see Mad Men style infiltrating the larger culture?
A: Absolutely. The show has influenced so much contemporary fashion, go to H&M or Michael Kors. I sent (Matt) Weiner a link to a furniture store and there's this actor that looks like Don Draper holding a drink sitting on a sofa and the headline says, "Mad About Modern" and its called the "Draper Sofa." And Weiner said, "Is this flattering?"
Q: Can we talk about that scene outside the ladies room in Episode
3?
A: When I read it, I thought, "He does what now?" But it was also exciting because I'd never seen anything like it. And we had this amazing level of trust established. The very first scene I had with Jon Hamm, I had to kiss him in the car. And he was wonderful. He's what every leading man should be. Besides being talented and professional, he's very protective of his cast.
Be sure to also check out the interview with Patrick Fischler who plays Bobbie's husband, Jimmy Barrett.